We researched over 10 Thai Restaurant in Wichita, KS, and out of these, we've listed the 3 best and most popular Thai restaurant according to our team research, customer reviews, and popularity.
1. Thai House Restaurant
If you are searching for the best Thai food or restaurant near me in Wichita city then visit Thai House Restaurant. This is one of the very popular and highly rated restaurants in Wichita. If you are looking for Thai food with affordable prices with friends sh quality then eat here your favorite dish as they serve authentic Thai food.
This is a family owned restaurant. This Thai restaurant in Wichita known for reasonably priced and absolutely scrumptious Thai food. It might take some time to serve your food here because they pride themselves on making your meal from scratch. So if you want to enjoy some Thai delicious food such as soup, noodles, salad, fried rice, entrees, drinks, and appetizers then you can visit this place. If you like real Thai food, you'll love the carryout at Thai House, 969 N. West St.
Specialties include satay, the traditional street food of Thailand, which is charbroiled pork or chicken marinated in a spicy sauce and served with peanut sauce and a refreshing cucumber dip. Also popular — pad Thai, which is fried noodles with chicken or pork, bean sprouts, green onions and ground roasted peanuts.
Address: 969 N West St, Wichita, KS 67203
Phone: (316) 941-4777
Open Hours: Tue – Fri (11 am – 8 pm), Sat (11 am – 4 pm), Sun & Mon (Closed)
Website: https://www.thaihousewichita.com/
2. Krua Thai
Not happy with the first option? No worries, let me introduce the Krua Thai restaurant in Wichita city. So if you want to experience the liveliness and excitement of Thai restaurants' exhibition kitchen then Krua Thai might be the perfect choice. This restaurant has some specialty in various Thai cuisine including salad, steam fried rice, and soups.
Krua restaurant and their staff would like to take this opportunity to welcome you to your home with a great combination of Thai dishes. They serve only the freshest and finest ingredients. Here at Krua Thai restaurant, their extraordinary fast and friendly waitstaff wishes to make your visit this place an unforgettable event. You could view their menu and online order ahead – no hassle.
So if you really want to enjoy some delicious Thai food near you in Wichita city then visit this place with your friends or family members. This restaurant is open everyday from 11 am to 9 pm except Monday.
Address: 7603 W 21st St, Wichita, KS 67205
Phone: (316) 239-1680
Open Hours: Tue – Sun (11 am – 9 pm), Mon (Closed)
Website: http://www.kruathaiatwichita.com
3. Tuptim Thai Restaurant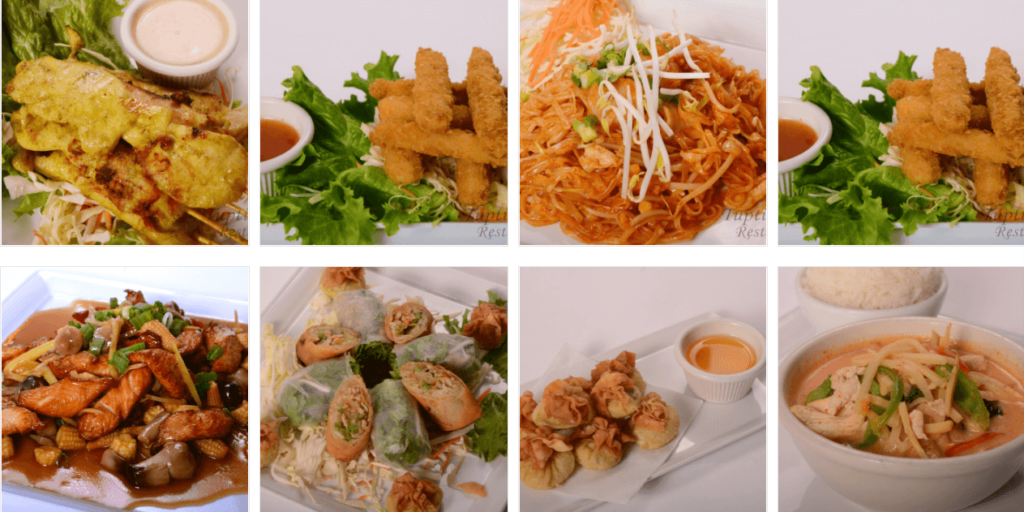 If you are still not impressed with the above two Thai restaurants then you can visit Tuptim Thai Restaurant. You can come to TupThai Restaurant on Rock Road if you want to enjoy fresh and authentic Thai cuisine with your loved ones. Here, you will be served Thai Curry Bowls, soups, salads, and more. Their menu also features Pad Thai, Sweet Chili Noodles, and Thai Peanut Salad.
This restaurant is located across the street from Bradley Fair by Best Buy. They're north of the Wichita county Club. If you don't want to visit this restaurant then order online for carryout.
Address: 2121 N Rock Rd #300, Wichita, KS 67206
Phone: (316) 768-2550
Open Hours: Tue – Fri (11 am – 3 pm, 5-9 pm), Sat (12-9 pm), Sun (12-8 pm), Mon (Closed)
Website: https://www.tuptimthaiwichita.com