On a chilly evening, warming up with a bowl of soup is a wonderful way to unwind, and if you're looking for the best recipes for Mexican soup, you've come to the right place. There's more to Mexican food than tacos, empanadas, and burritos. The country also makes delicious soups with a wide range of hearty ingredients.
1. Mexican Lentil Soup
This substantial broth is laden with a broad range of veggies, herbs, and other delectable components that any vegetarian would appreciate, including the fact that there are no meat products whatsoever. The addition of the tortilla strips gives it a delicious texture that is not normally found in soup, making it a hearty and fulfilling dish overall.
Avocados contribute a creamy texture and heart-healthy fats, while lime wedges impart a zesty bite to the dish. The chili powder, fire-roasted tomatoes, jalapenos, and peppers all contribute to the dish's spicy flavor. This soup has everything a person could ever desire in it.
Related: Mexican Lentil Soup Recipe
2. Chicken Taco Soup
The robust tastes of chili beans, corn tortillas, and chicken come together in a classic Mexican dish known as chicken taco soup. On your grocery list are chicken breasts, taco seasoning, diced tomatoes, chicken stock, black beans, and cheese. It is essential to ensure that the shredded chicken in your chicken taco soup combines well with the other components of the dish.
To serve, top each portion with tortilla strips, sour cream, avocado, cilantro, and lime wedges. You may either manufacture corn chips out of tortilla strips on your own or buy them at the grocery shop near you. Both options are delicious.
Related: Chicken Taco Soup Recipe
3. Creamy Chicken Enchilada Soup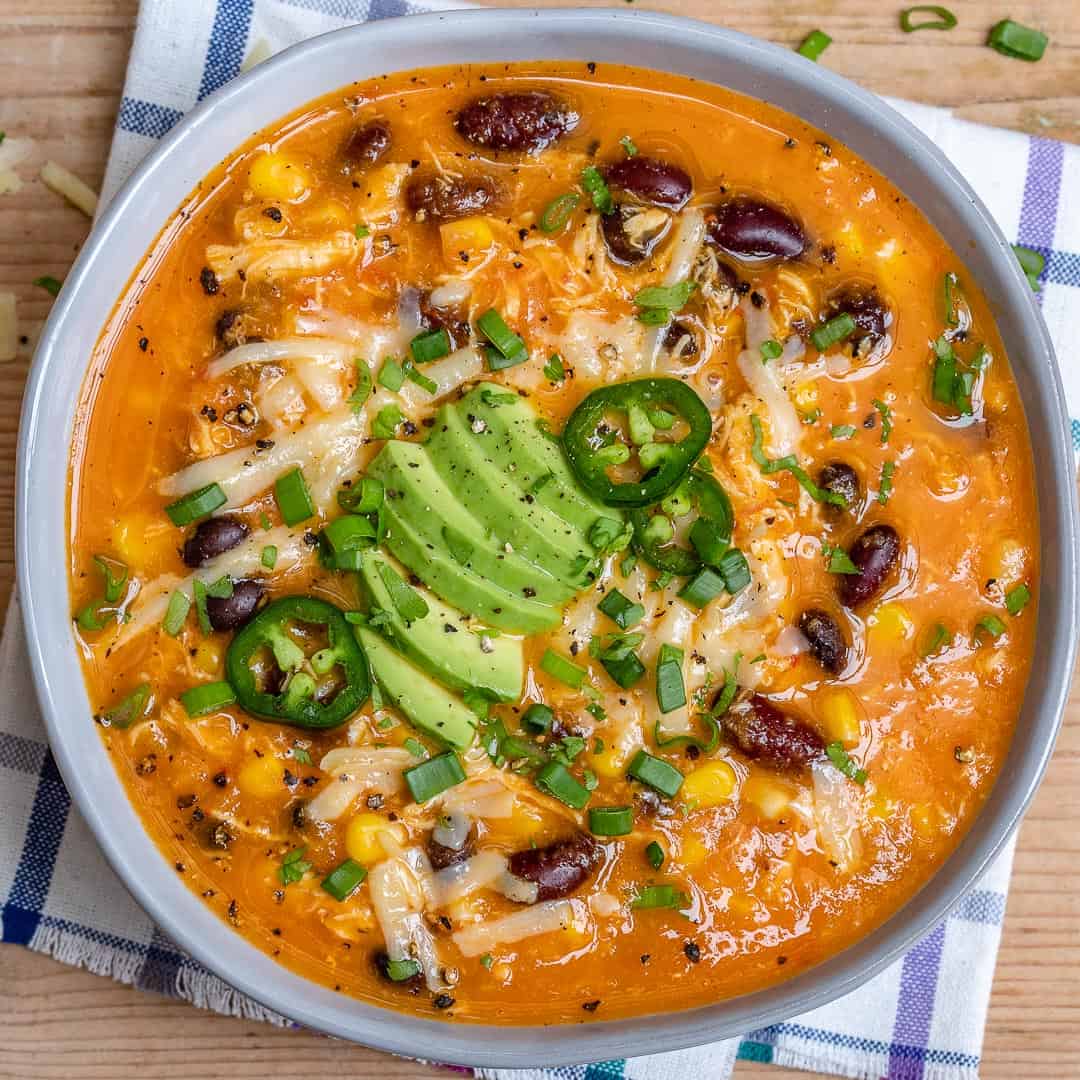 Even while canned chicken enchilada soup from the store has seen significant growth in sales over the past several years, there is no substitute for the homemade version of this dish. The taste of the cheese is bold, and the consistency is luxurious and velvety smooth.
The crispiness of the vegetable pairs wonderfully with the succulent and delicious chicken in this dish. You could eat this soup on the coldest winter night and still feel wonderfully warm and snug after doing so. That's how satisfying it is.
Related: Creamy Chicken Enchilada Soup Recipe
Also See: 100+ Best Chinese Foods: Veg, Non-Veg, Soups, Desserts
4. Sopa De Fideo (Mexican Noodle Soup)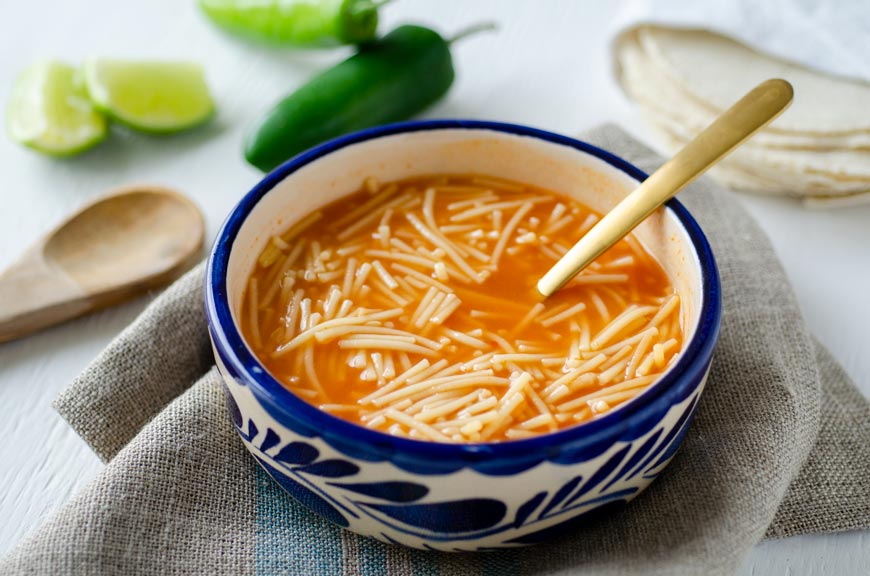 The Mexican-style soup with noodles The noodles in Sopa de Fideo are golden brown, and they are served in a spicy tomato sauce. This soup is loaded with vegetables, chicken stock, and vegetable broth, making it an excellent choice for those looking for a nutritious meal. Lime wedges and as much freshly squeezed lime juice as you like should be included with the dish.
Related: Sopa De Fideo (Mexican Noodle Soup) Recipe
5. Mexican Meatball Soup
Soup with meatballs, also known as SOPA con albondigas, is a well-liked dish throughout Latin America. The soup recipe calls for a long list of ingredients, which is par for the course for flavorful soups, but the majority of those ingredients are pantry staples that are easy to find, such as vegetables, herbs, and spices. When using them, you shouldn't restrict yourself to just this soup recipe because they are not only tasty but also versatile.
Related: Mexican Meatball Soup Recipe
6. Vegetable Soup in the Style of Mexico
The vegetable soup that is served in Mexico is extremely comparable to the soup that is served in any other country. Some of the garden-fresh veggies that are used to populate the base of the vegetable broth are carrots, onions, zucchini, green beans, and a few others.
This meal, on the other hand, achieves a delightfully real Mexican flavor thanks to the use of lime juice, cilantro, Mexican oregano, and diced tomatoes with green chilies. The flavor of Mexican cuisine is present, but not in an overpowering way (but jalapenos and cayenne pepper can be added if desired).
Related: Mexican Vegetable Soup
7. Soup made with Mexican black beans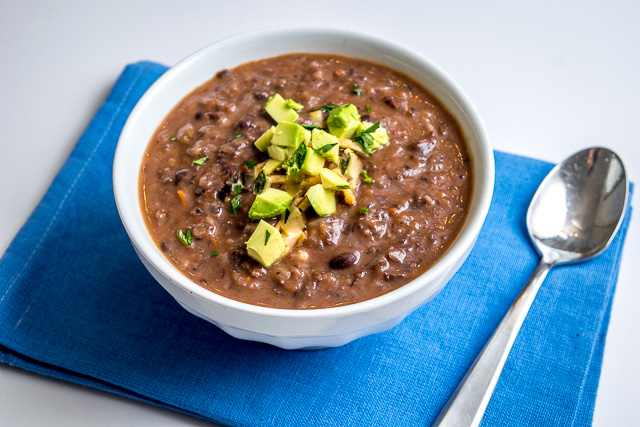 The fact that it needs to be cooked for two hours is the one significant challenge involved in making black bean soup. The numerous spices and herbs are the only additional components of the dish except for the beans and the onions. The earthy spices, bright lime juice, and savory broth give the soup a complex flavor despite its ease of preparation. This is due to the fact that the soup is made using a combination of all three.
Related: Mexican Black Bean Soup Recipe
Also See: 60 Best Mexican Foods: Veg, Non-Veg, Soups, Desserts
8. Pozole, a traditional Mexican stew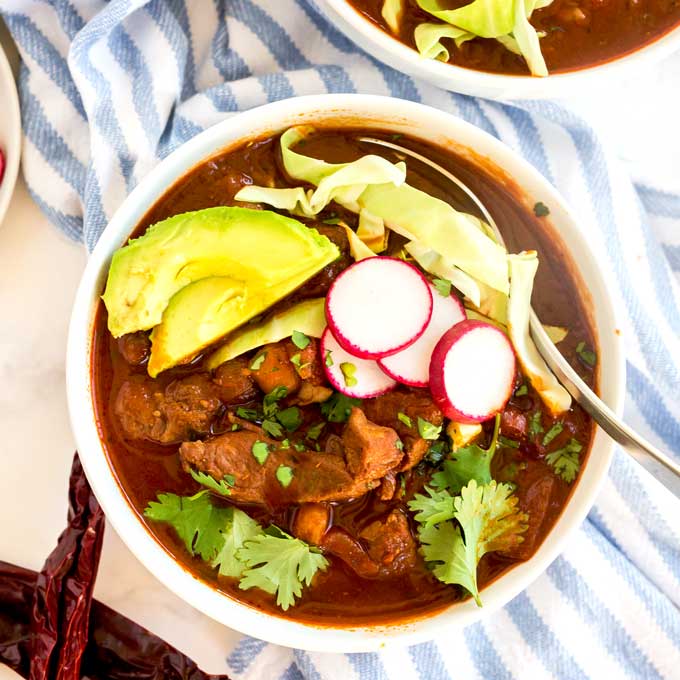 Pozole, which can be either a soup or a stew, is a fundamental dish in the cuisine of Mexico. The hominy is first prepared by cooking it with the meat, and then it can be topped with a wide variety of ingredients such as shredded lettuce or cabbage, chile peppers, onion, garlic, radishes, avocado, salsa, or limes.
Related: Mexican Pozole
9. Corn Soup with Mexican Street Style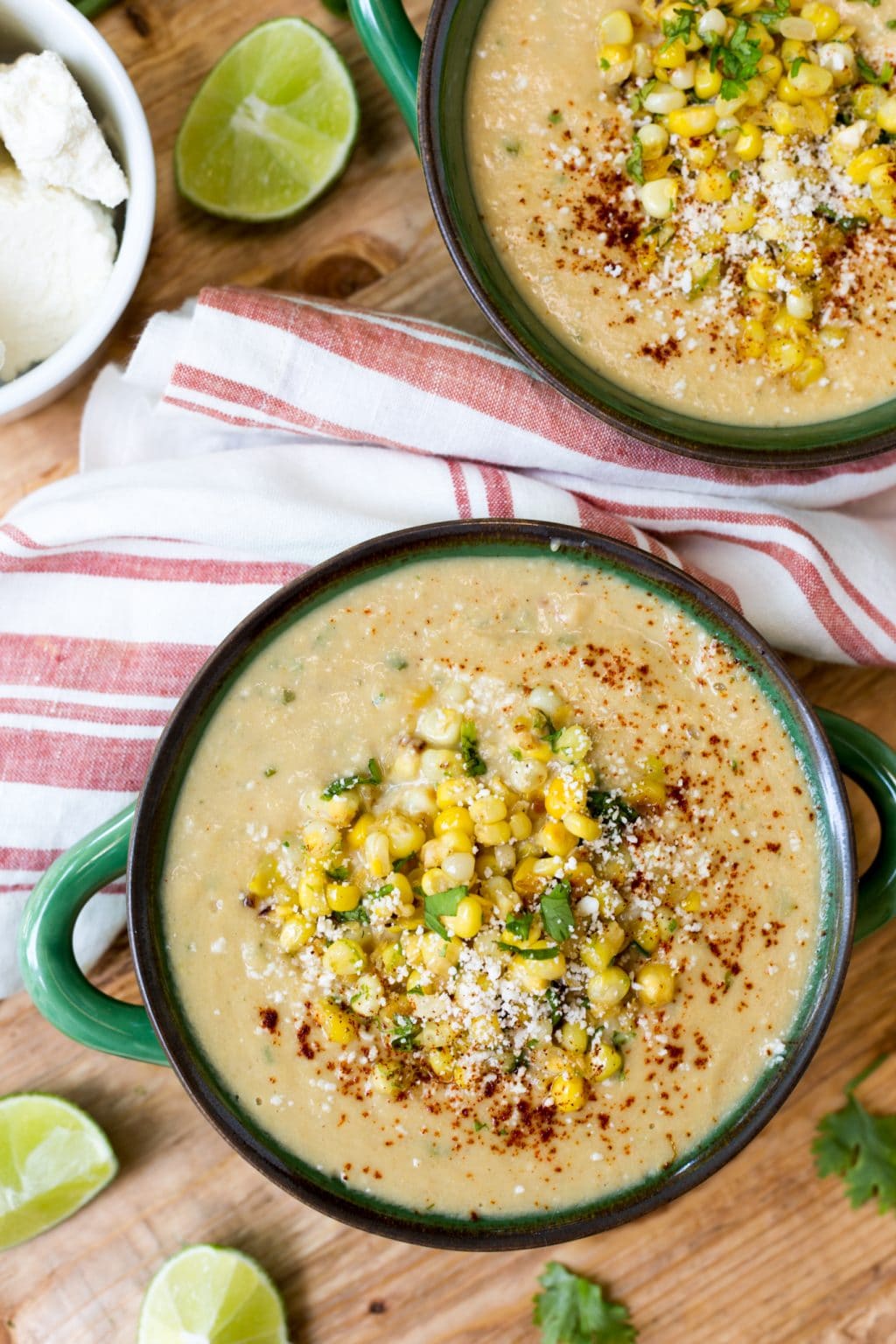 This soup is a great way to use up any extra summer corn that you may have in your garden. It's creamy and tangy all at the same time. It has just a hint of spiciness, a tangy kick, and an abundance of mouthwatering deliciousness. If corn is one of your favorite foods, you should give this recipe a shot.
Related: Mexican Street Corn Soup Recipe
10. Soup with Fajita Chicken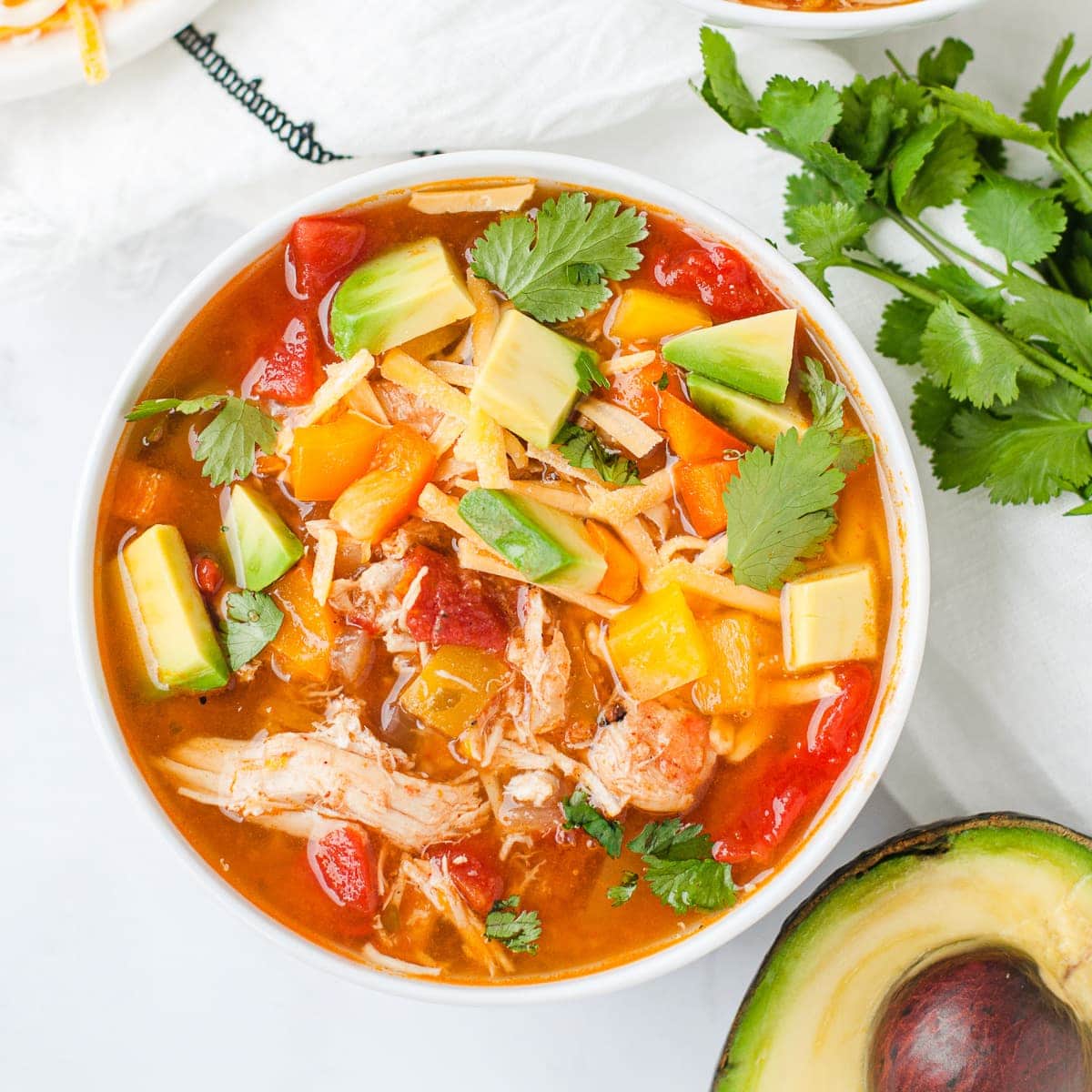 If you replace the sausage in pasta e fagioli with chicken and use rice instead of pasta, you will have chicken fajita soup. This soup is very similar to pasta e fagioli. The temperature is the only other significant factor that differs, in addition to these two variations.
The chicken fajita soup recipe calls for chili powder and ancho chili powder in addition to the standard cumin, oregano, and paprika. It gives it a more genuine Mexican flavor, and it amps up the heat.
Related: Chicken Fajita Soup Recipe
11. Congealed Sweet Potato and Chocolate Mole Soup
This dish is chock full of flavorful additions in addition to the chocolate itself. To be really honest, it does include both chocolate and tequila. Even though it must be left in the slow cooker for at least six hours, the process is not overly laborious because once you start it, you can forget about it until it is ready to serve.
It is difficult to convey the flavor of this soup because it has a wide variety of ingredients, despite the fact that it is delicious. The fact that it has a smooth and creamy texture is the cherry on top.
Related: Congealed Sweet Potato and Chocolate Mole Soup Recipe
Also See: 46 Most Popular Asian Desserts From Each Asian Country
12. Tortilla Soup with Chicken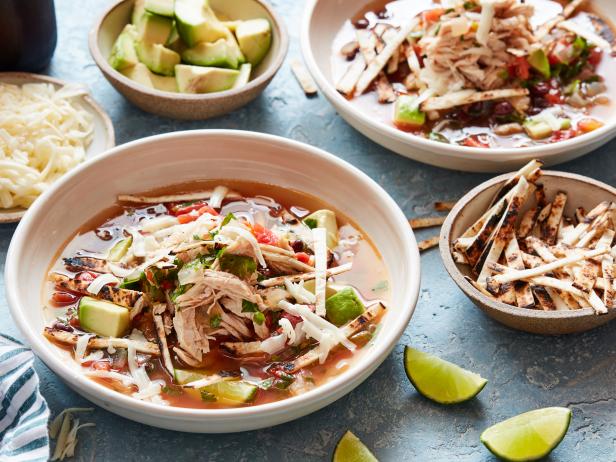 This chicken tortilla soup is one of the most delicious and simple evening meals you could possibly make. Because it contains shredded chicken, corn, beans, and handmade tortilla strips, this soup may serve as a meal on its own without any other accompaniments.
It is reassuring, fulfilling, and satiating; in other words, it is the ideal dinner for the winter. The most exciting part? Alongside previous one-pot wonders from the Food Network Kitchen such as Taco Soup and Beef Chili, Chicken Tortilla Soup is the newest addition to this category.
Related: Chicken Tortilla Soup Recipe
13. Refried Bean Soup
You are free to refer to it as a stew, soup, or chili if you choose. This delicious bean soup with a smoky flavor can be ready in just thirty minutes if you start it right away. It does not contain gluten, has a spicy flavor, and is packed full of nutritious ingredients such as peppers, onions, tomatoes, maize, black beans, and refried beans, amongst others. Since it is hearty and satiating, refried bean soup is the ideal meal to have after spending the better part of the day outside in the chilly weather.
Related: Refried Bean Soup Recipe
14. Taco Soup
A typical taco soup will contain beef or turkey ground beef, ranch dressing, taco seasoning mixes, tomatoes, corn, chiles, beans, and at least a half dozen additional ingredients.
Crushed tortilla chips or corn chips, along with shredded cheese, sour cream, and chopped jalapenos, can be added to a dish as an additional ingredient to enhance its flavor and texture. That right there is an unbeatable display of collaboration.
Related: Taco Soup Recipe
15. Beefy Mexican Rice Soup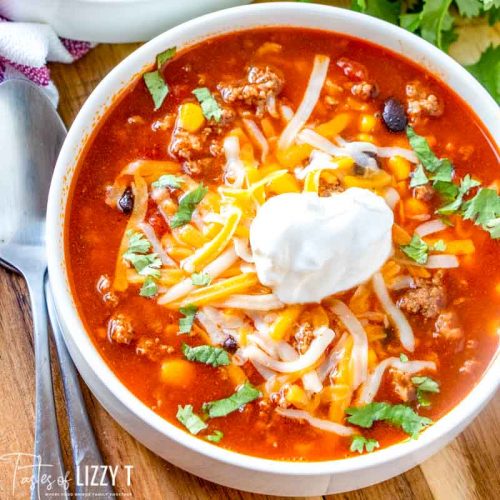 This Beefy Mexican Rice Soup is destined to become a favorite due to the satiating combination of beef, rice, beans, and corn that it contains. You can have a hearty bowl of soup that tastes just like your favorite burritos ready to eat in just about an hour's time. We suggest accompanying it with a dollop of sour cream and a sprinkle of Mexican cheese blend shreds when it's served to guests.
Related: Beefy Mexican Rice Soup Recipe
16. Soup made with Mexican tomatoes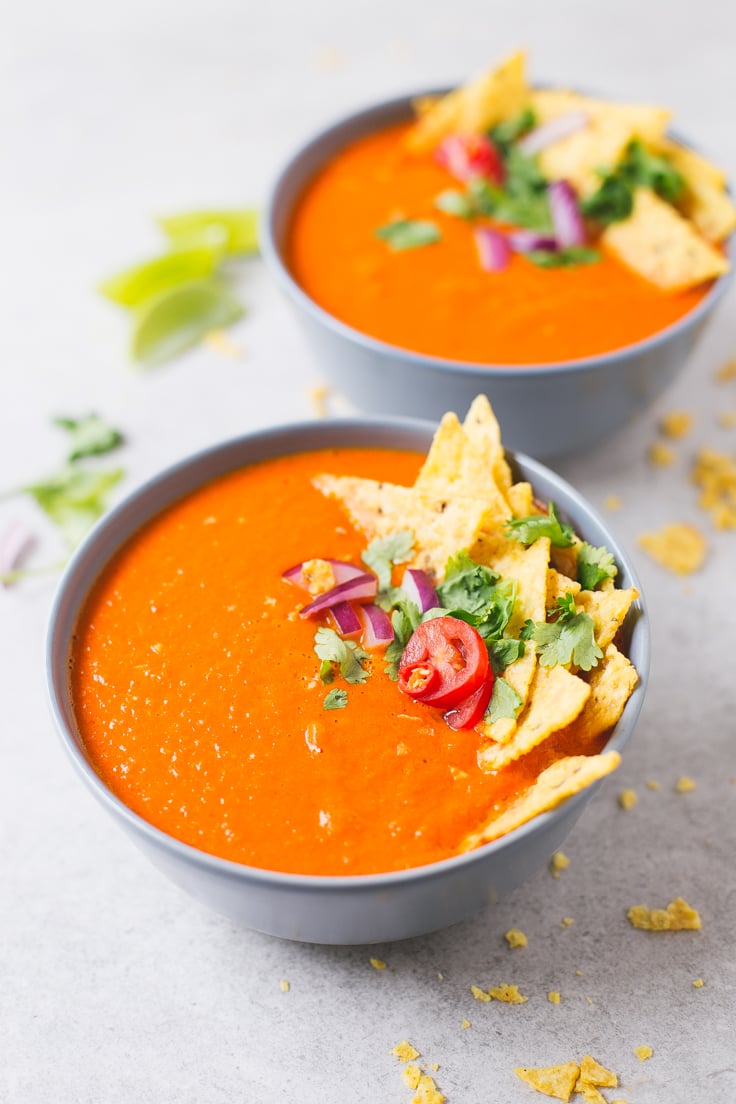 If you like your tomato soup with a lot of cream, you'll probably enjoy this. The fact that it can be ready in less than twenty minutes is almost certain to sway your decision. The incorporation of garlic, cilantro, and cayenne pepper gives it a distinctively Mexican flavor, making it reminiscent of a hearty tomato soup but with a spicy twist.
Related: Mexican Tomato Soup Recipe
17. Burrito Bowl Soup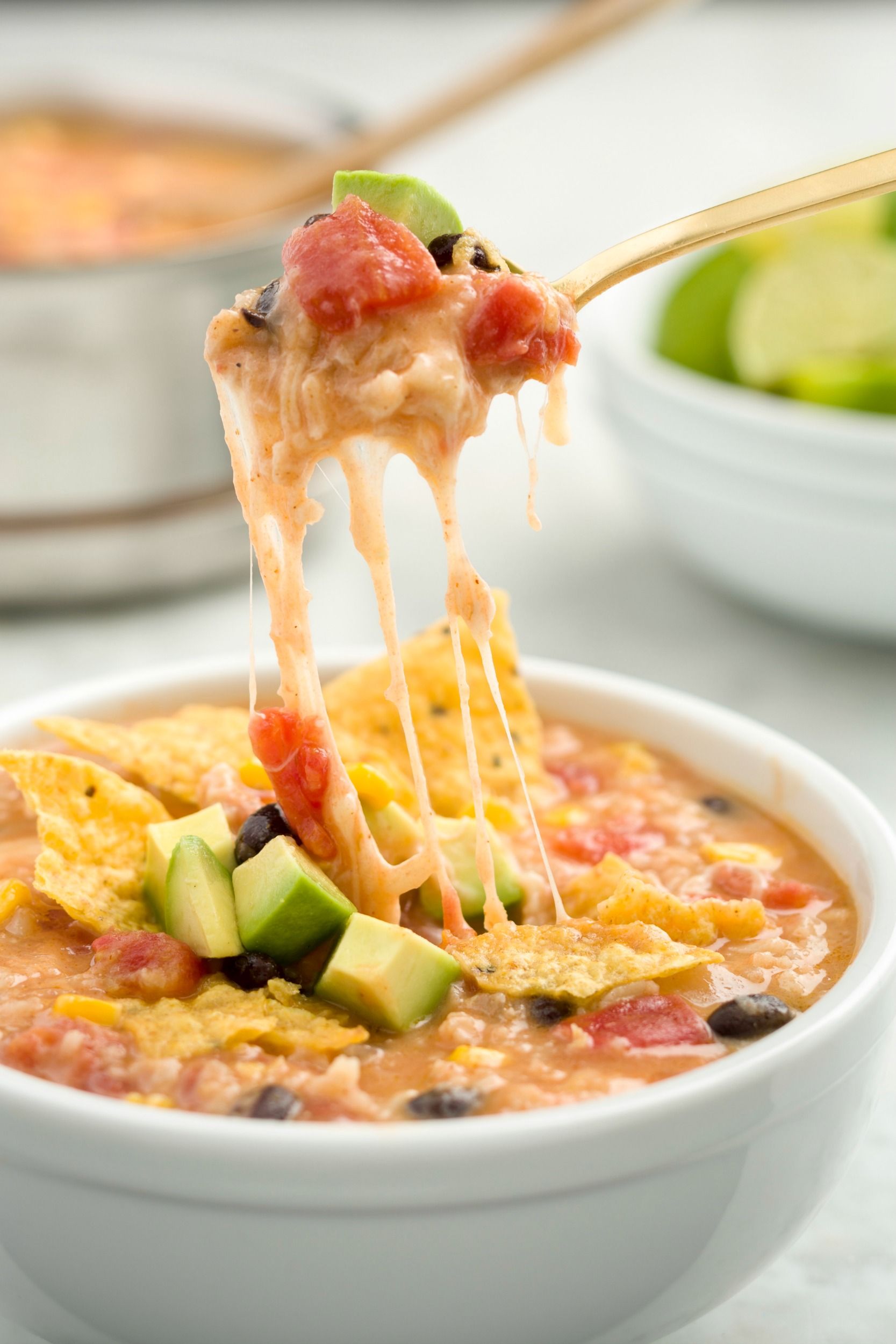 This soup has an absurdly high percentage of cheese in it. This is so incredibly corny that it's laughable. Because of its warm temperature, gooey consistency, and thick consistency, it is almost more like a dip than a soup. This dish is not only delicious with crushed tortilla chips, but it is also gluten-free, bursting with garlic flavor, and it is an excellent choice for parties.
Related: Burrito Bowl Soup Recipe