If you want to know about Mexican Foods or are looking for a good dish to eat one of the best Mexican Foods then this is the place for you. Our team of writers lists 60 different Mexican foods. You will learn about vegetarian, non-vegetarian, Mexican soup, and Mexican desserts here.
1. Spicy Chicken Taquitos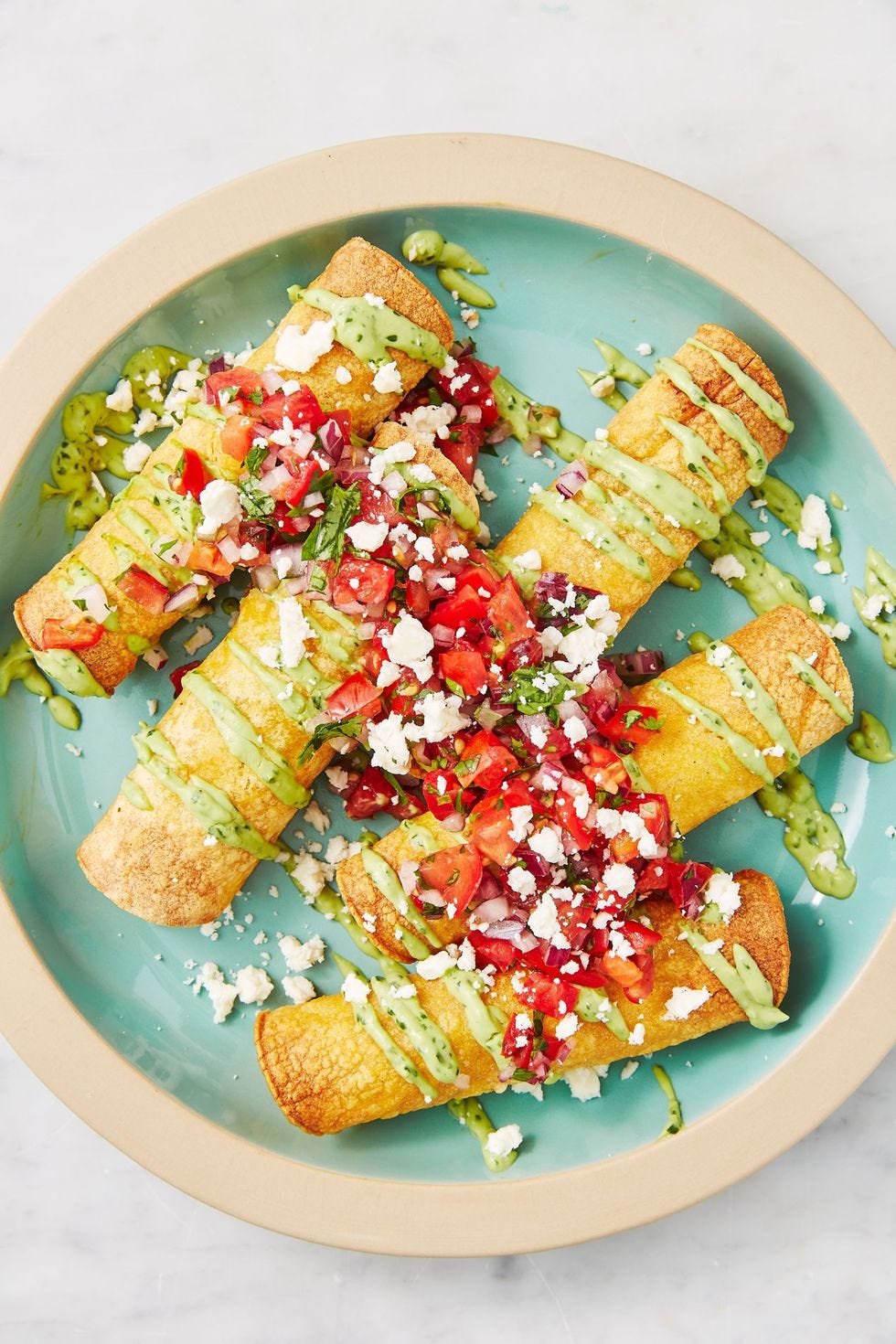 The exterior of a taquito is typically covered in condiments like guacamole and sour cream, making it similar to a rolled taco. A traditionally crisp exterior is achieved by shallow frying. Instead of deep frying, you can bake our version.
2. Chicken Quesadilla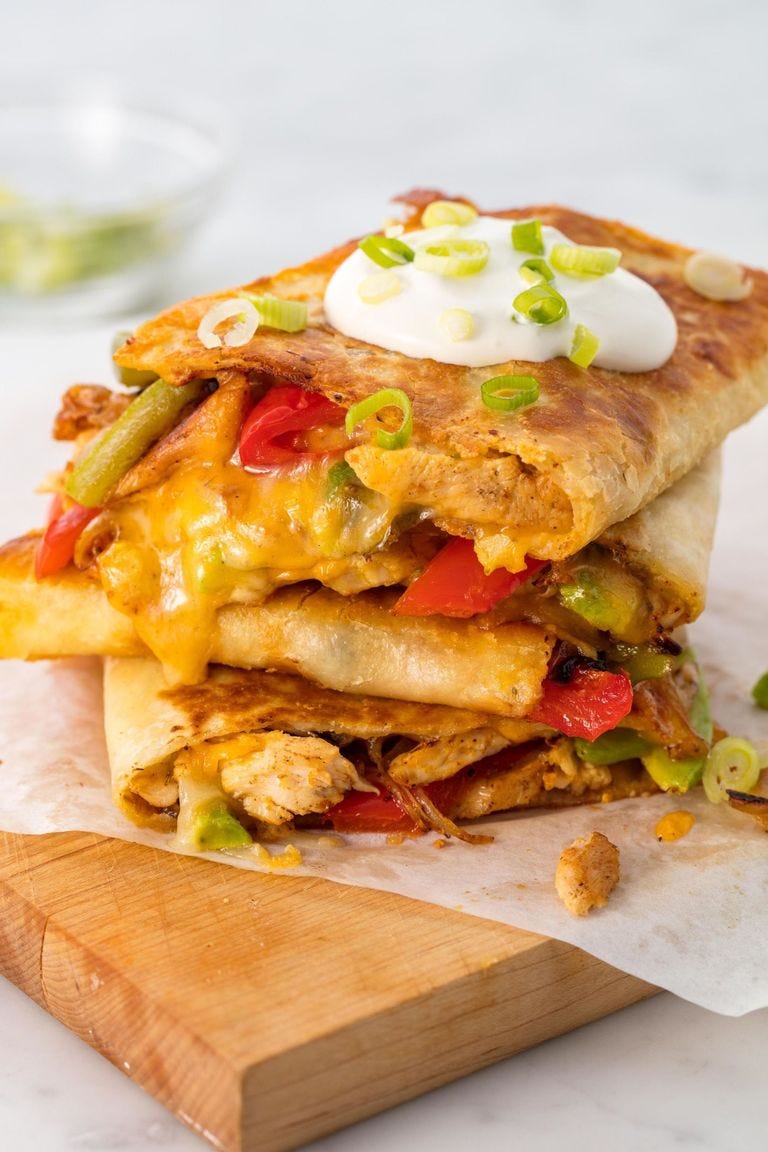 This Popular Mexican dish requires no recipe. Wrap cheese in a tortilla and fry until crisp and melted. This recipe won't let you down, especially when it comes to making chicken filling inside.
3. Birria Quesatacos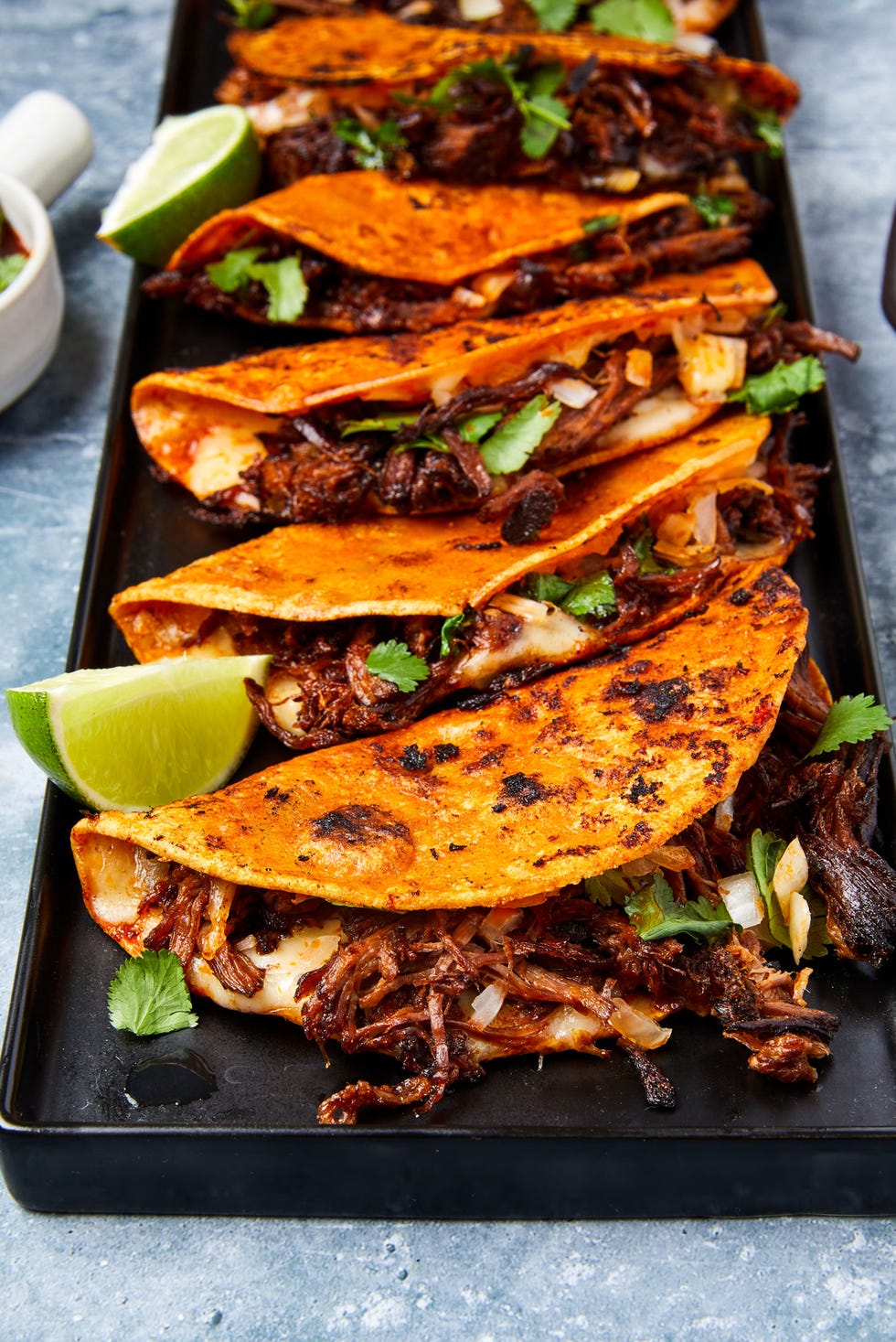 There are various ways to prepare birria, but one of our favourites is to make quesatacos that have been seared in the birria fat and are stained a deep red colour. This creates a small quesadilla by melting the queso oaxaca inside the tortilla.
4. Beef Enchiladas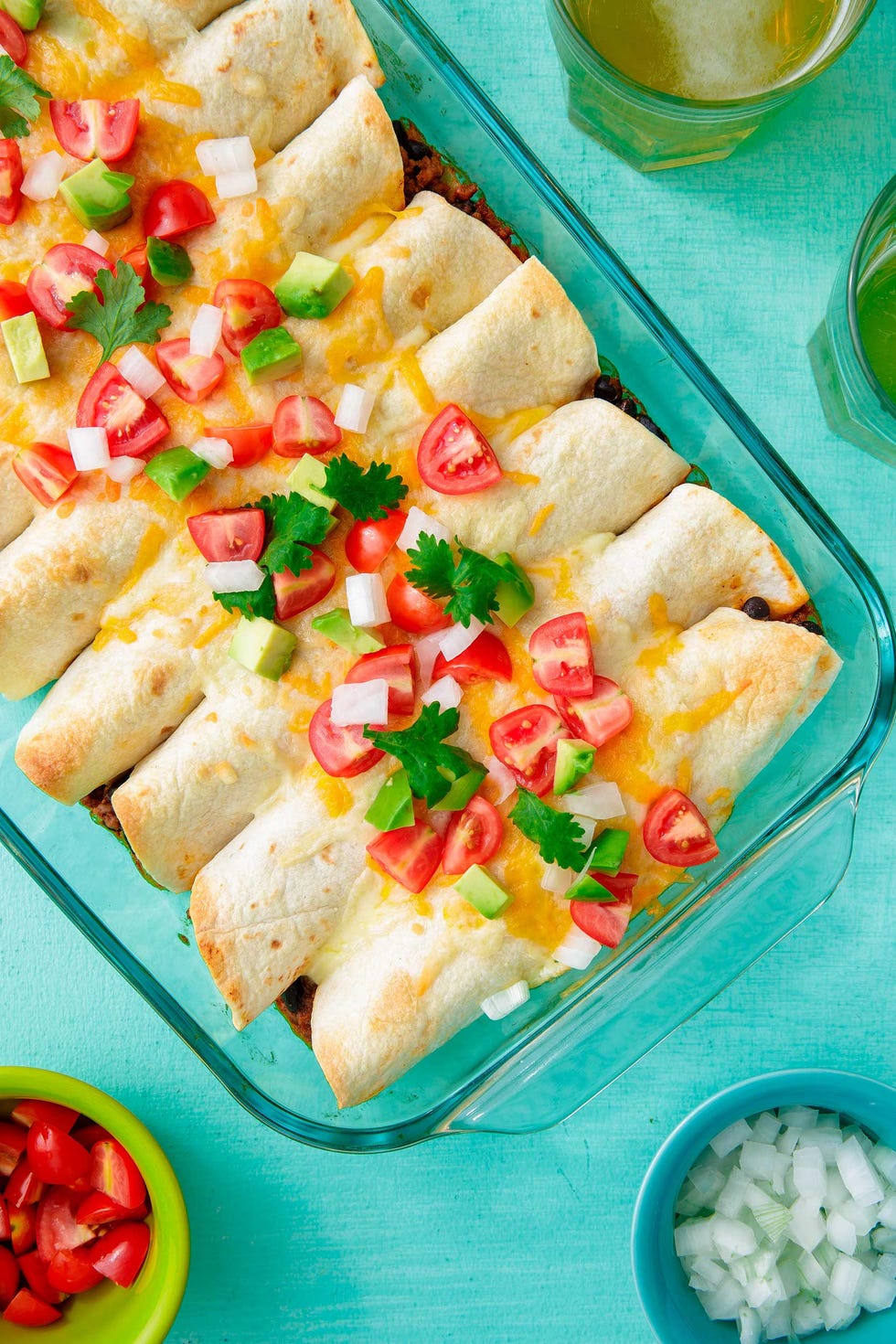 Made with ground beef and black beans, these enchiladas are made extra cheesy and delectable with the addition of Monterey Jack and cheddar cheese. Give the dish an extra special touch by using our homemade enchilada sauce if you have some time on your hands.
5. Air Fryer Chimichanga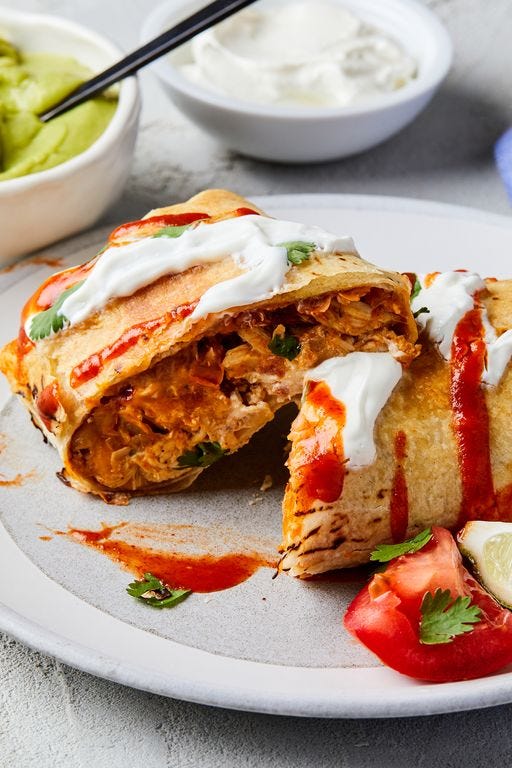 Chimichangas, in essence, are fried burritos, which we adore. While we love deep-fried food, we don't always love the oil waste and the resulting mess. Instead of frying in oil, use an air fryer to make crispy chicken chimichangas.
6. Chicken Enchiladas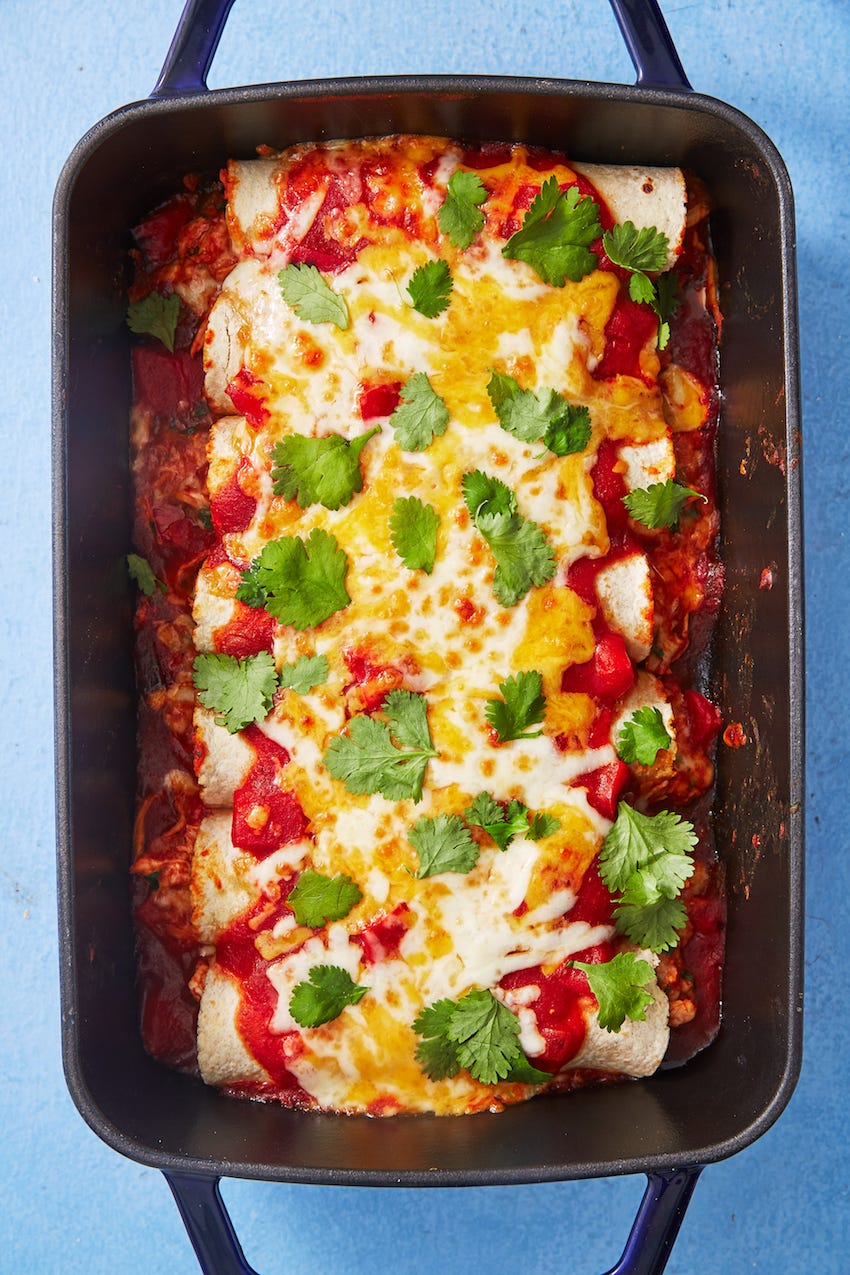 The original enchiladas were tortillas dipped in a spicy sauce and then rolled up. Tex-Mex is a fusion cuisine that originated when Mexican immigrants brought their food traditions to Texas. We used corn tortillas for these Tex-Mex enchiladas rather than flour ones.
7. Chicken Flautas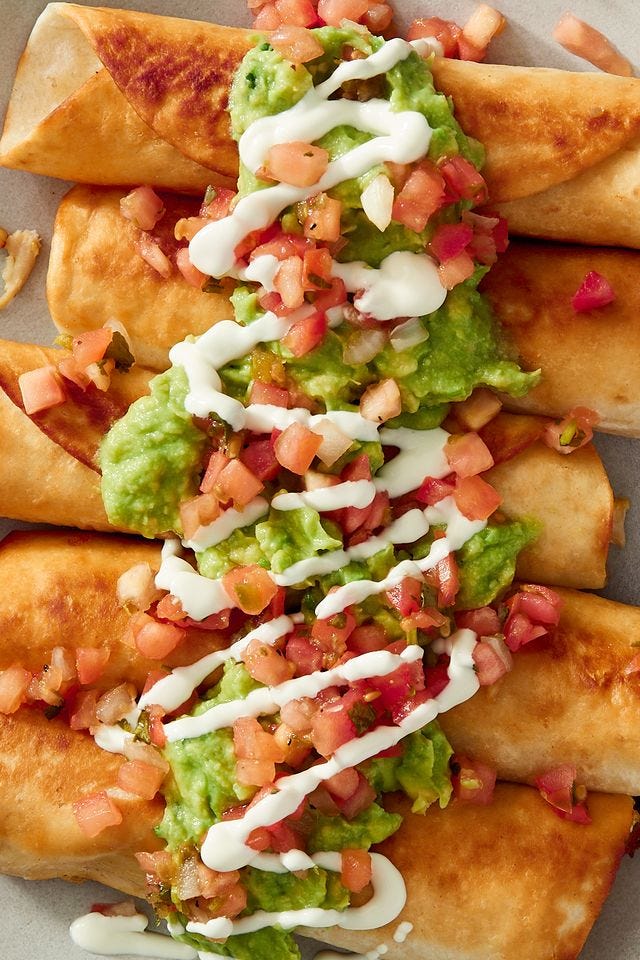 Flautas are a cross between taquitos and chimichangas; they are made by wrapping shredded chicken in flour tortillas and pan-frying them. They can be whipped up in a flash, making them wonderful for snacking or a quick weekday dinner when paired with Mexican rice and beans.
8. Cheesy Beef Empanadas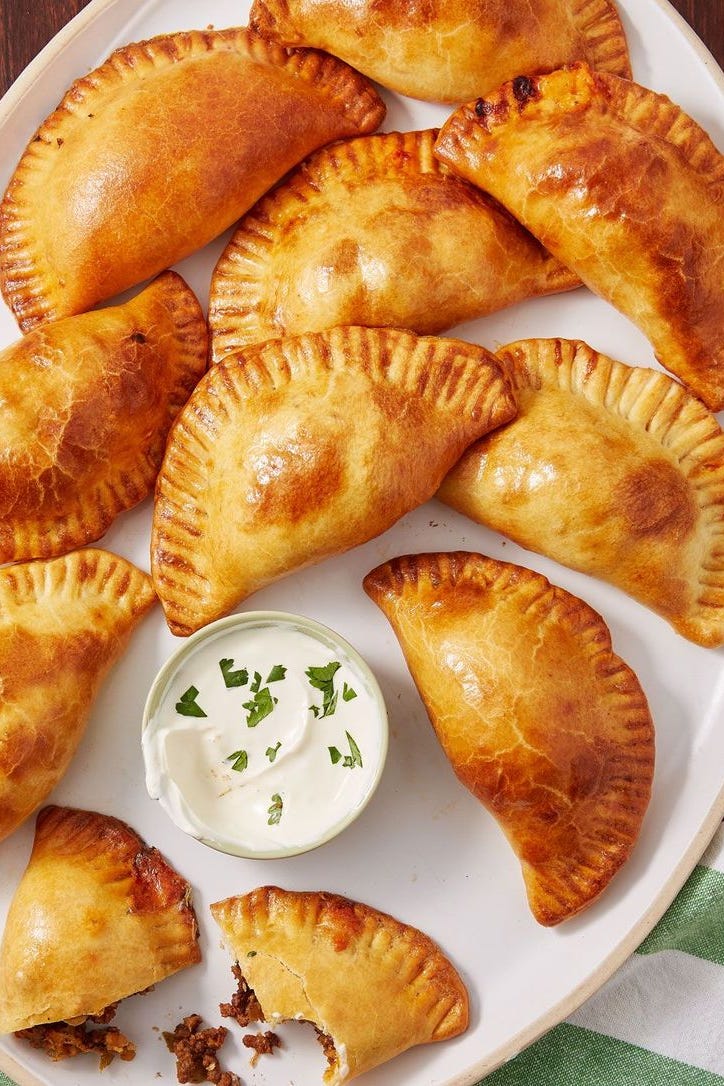 We used a traditional (top-secret) Mexican filling recipe as inspiration. For additional flavour, stir in some red wine vinegar, capers, green olives, and yellow mustard. When you've mastered pastry, the sky's the limit for what you can put inside.
9. Salsa Verde Enchiladas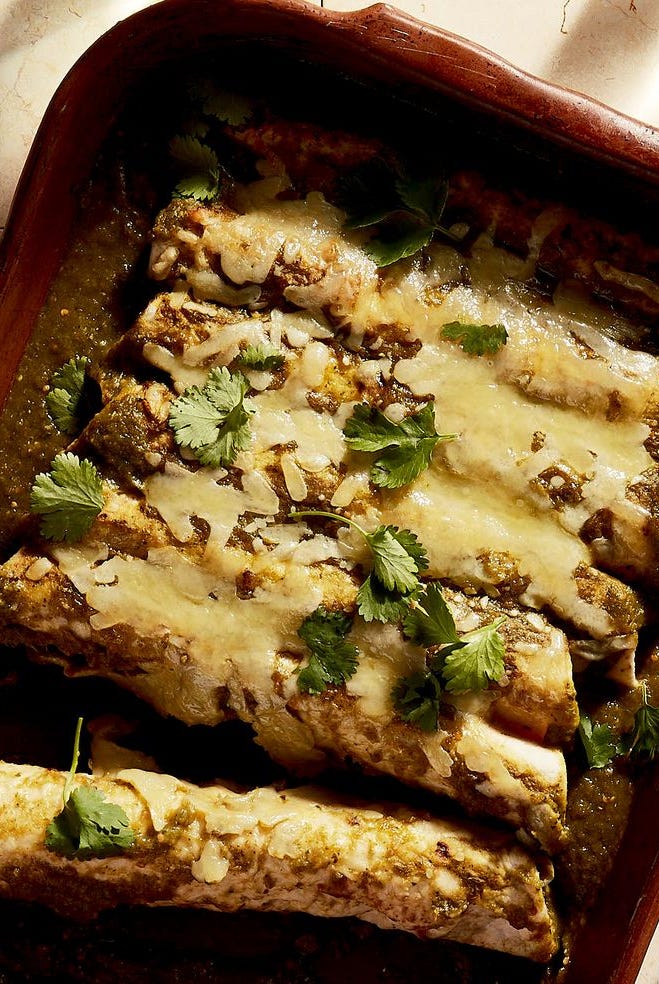 Green sauce enchiladas stuffed with cheese? That sounds like quite the ordeal. You can save time and effort without compromising flavour by combining fresh and packaged products. Adding cilantro, fresh garlic, and jalapeos to jarred salsa verde makes for a flavorful meal (and nutrients). It's an easy way to get that homemade flavor in a hurry.
10. Chicken Fajitas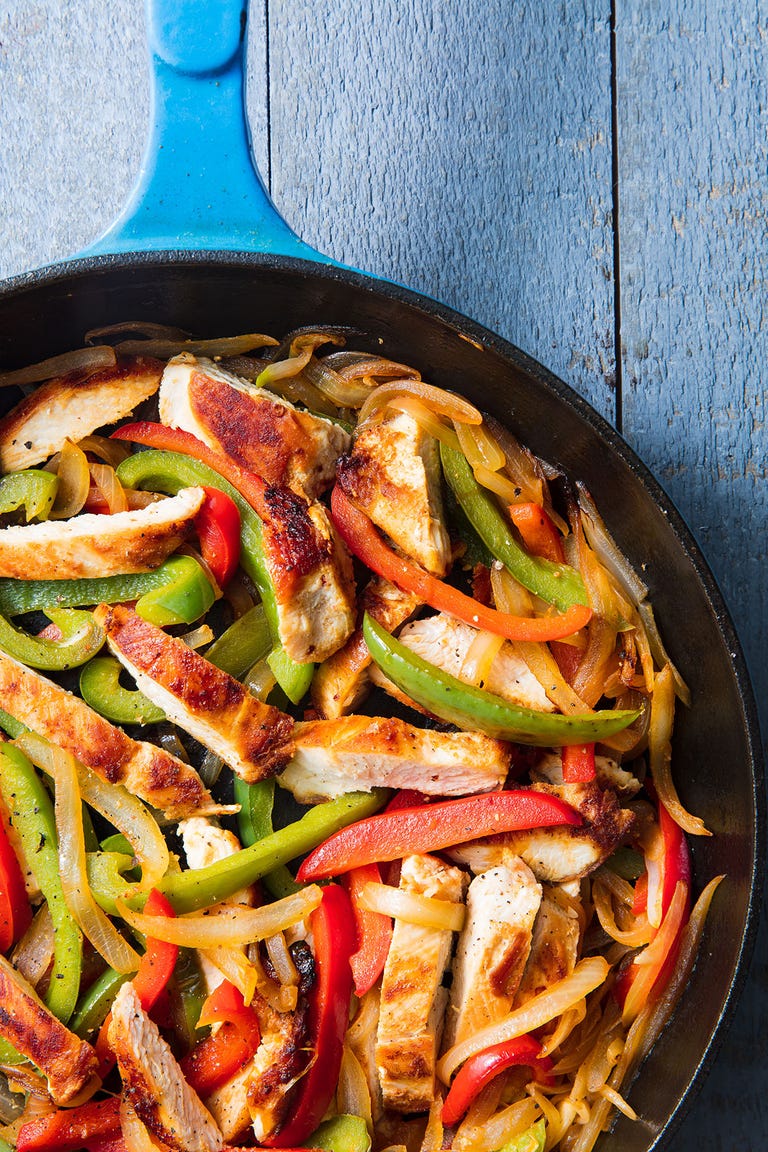 The traditional fajita originated in Tex-Mex food. The term was first used to describe a grilled meat strip wrapped in a tortilla. Veggie fajitas are now widely available alongside traditional meat, seafood, and crock pot options. Fast service is guaranteed because there is less time required for both preparation and cooking.
11. Best-Ever Chorizo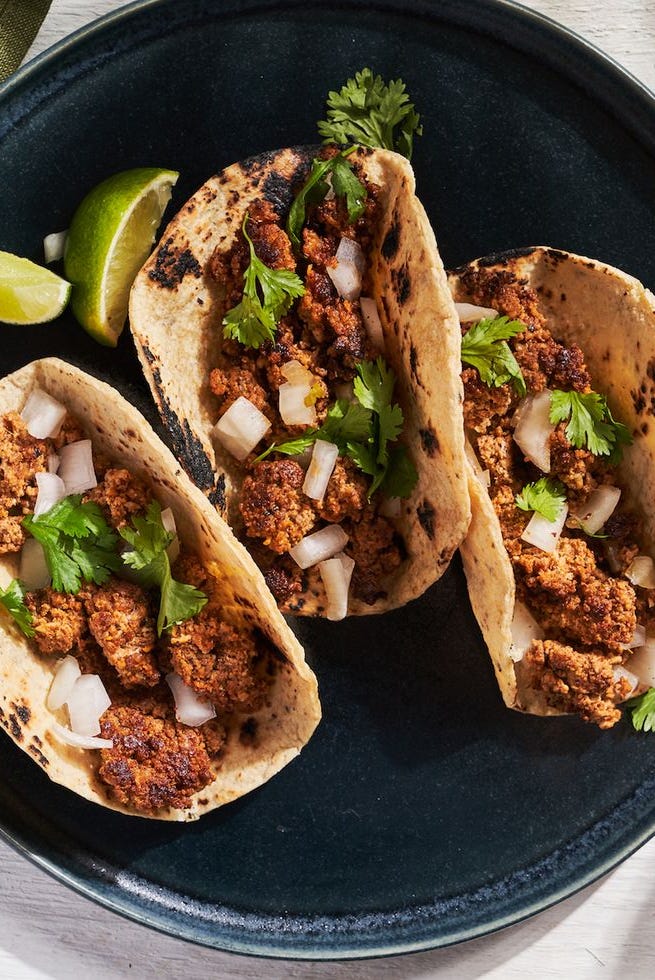 With a little bit of perseverance and a whole lot of different spices, you can create the best chorizo ever. If you don't think you'll be able to finish it all at once, divide it up into individual servings and store them in the freezer. That way, you can have freshly cooked chorizo whenever the craving strikes.
12. Crunchwrap Supreme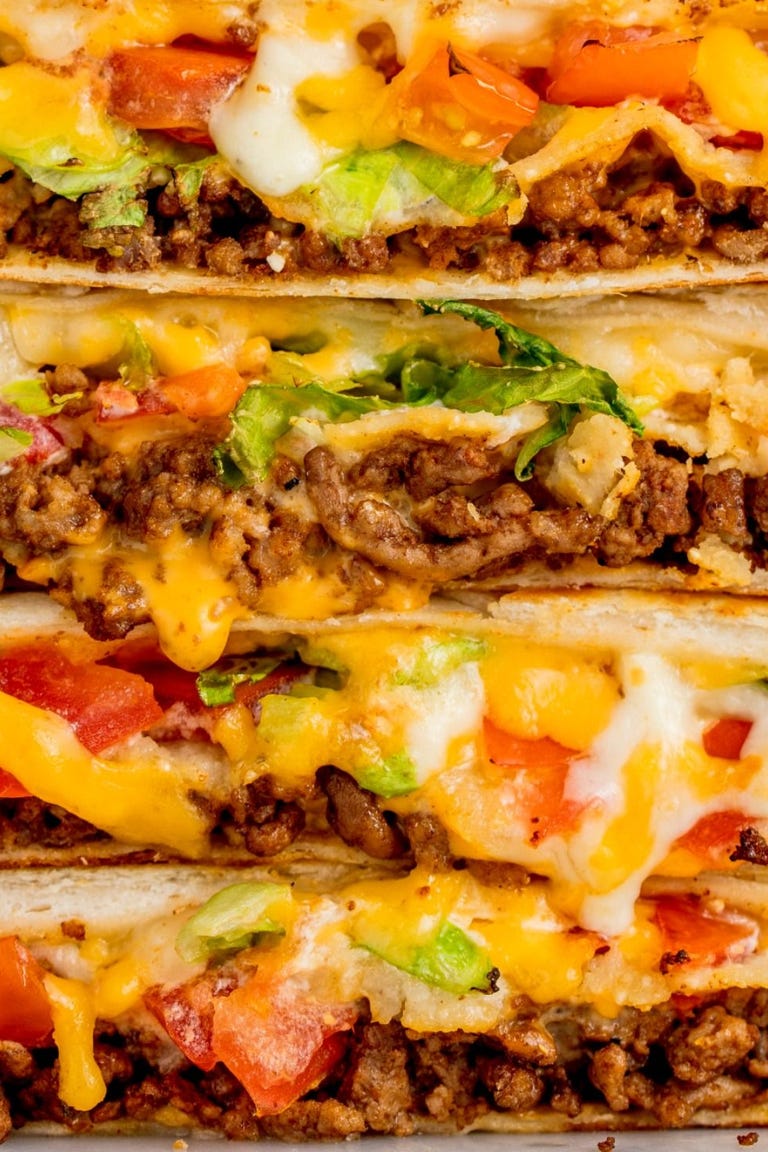 This copycat food is an exact recreation of the popular menu item that can be found at Taco Bell. It includes all of the same components, including a crispy tostada shell, seasoned ground beef, nacho cheese sauce, lettuce, tomatoes, and sour cream.
13. Cheesy Beef Quesadillas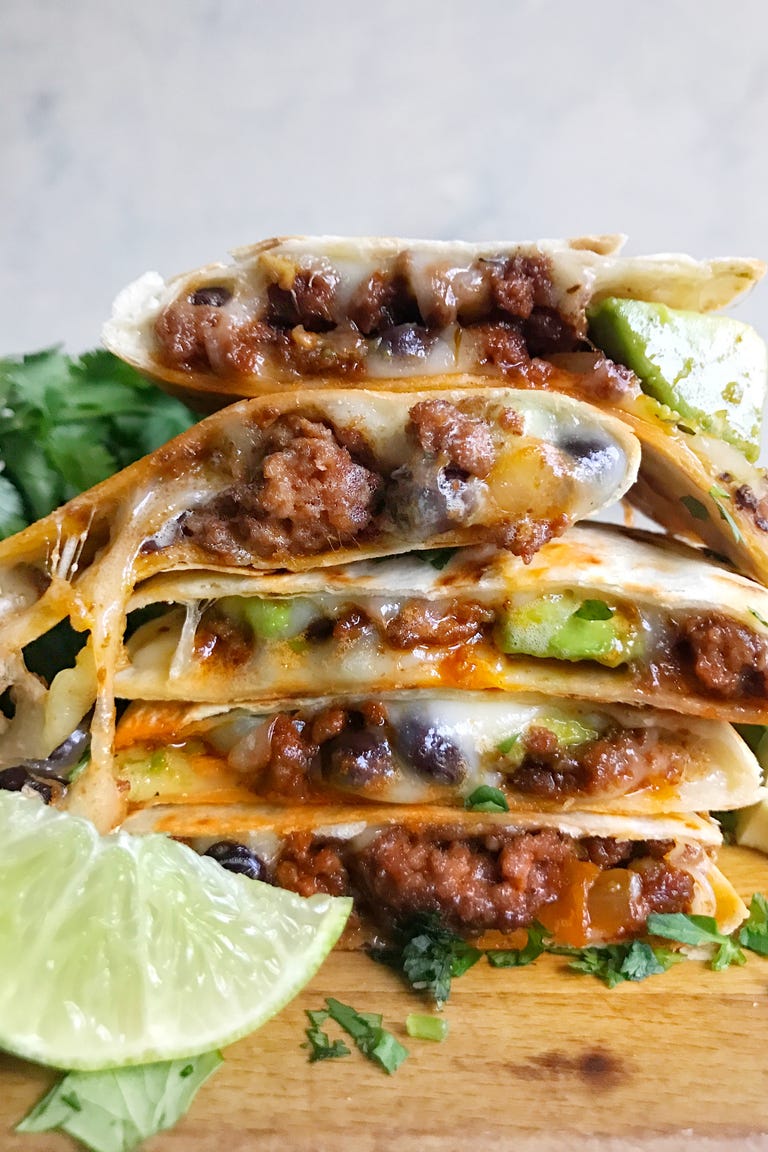 One of the finest pleasures that life has to offer is quesadillas. The only thing that can save us is beef with a spicy kick and black beans. You may either buy taco spice or make it yourself. guacamole, salsa, and sour cream on the side.
14. Cheesy Chicken Tacos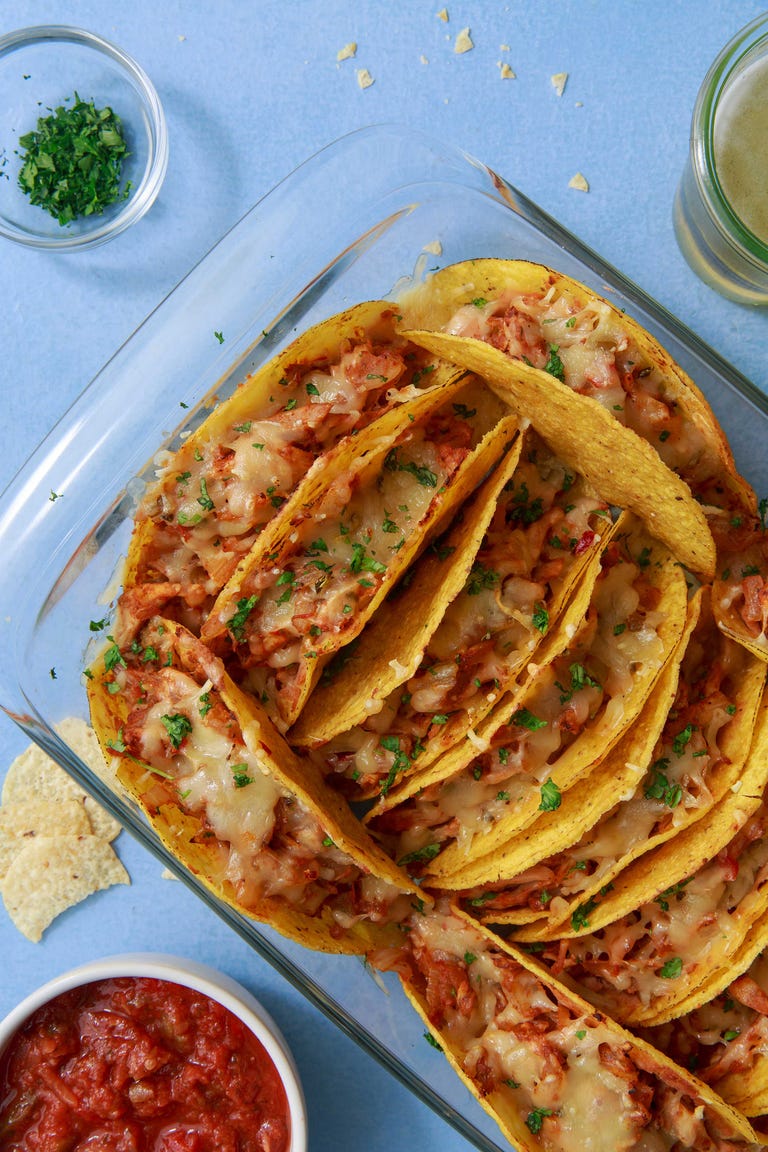 Because we're lazy, we prefer rotisserie chicken. If you have time, substitute lime juice for balsamic vinegar and oregano for rosemary and thyme.
15. Chicken Fajita Quesadillas
This delectable quesadilla really means business because it's loaded with all the fixings for chicken fajitas, including gooey pepper jack cheese and zesty cilantro pesto.
16. Chilaquiles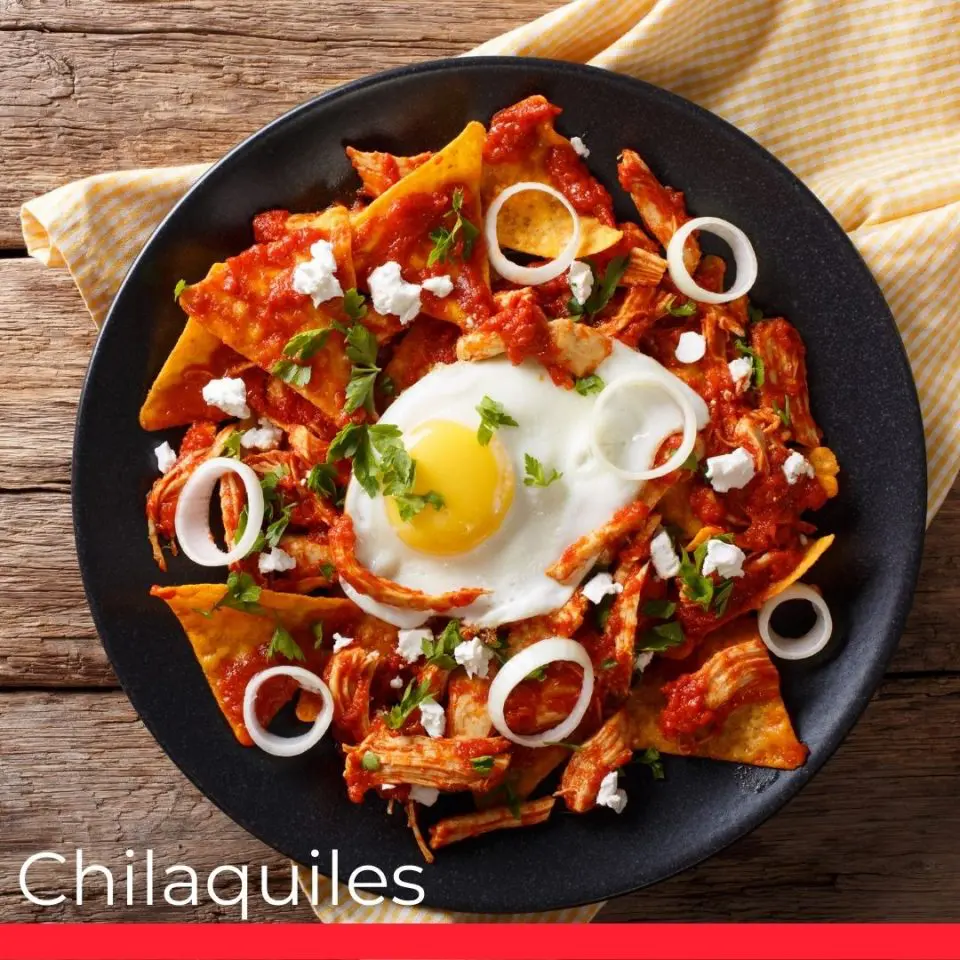 The American breakfast staple known as chilaquiles is a national treasure. Totopos are triangular corn tortillas that have been cooked or toasted, dipped in either red or green spicy sauce, and then topped with shredded chicken, chorizo, beef, and either a scrambled or sunny-side-up egg. Fried beans with fresh cheese, coriander, and onion are included in the meal.
17. Machaca (Shredded Dried Beef)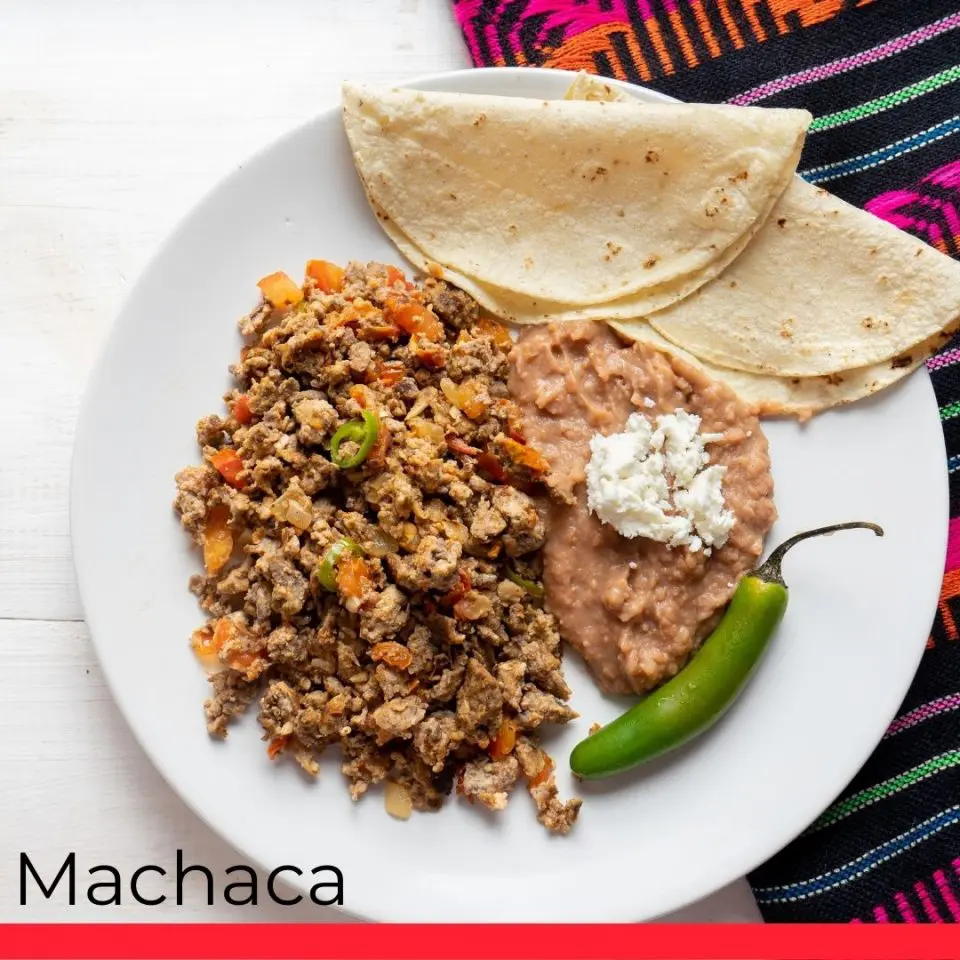 Northern Mexico loves this meal. Machaca is served as a stew with tortillas, beans, or rice, or as a taco, burrito, or flauta. Machaca is made with shredded, seasoned dried beef. Delicious!
18. Menudo (Pork Stew)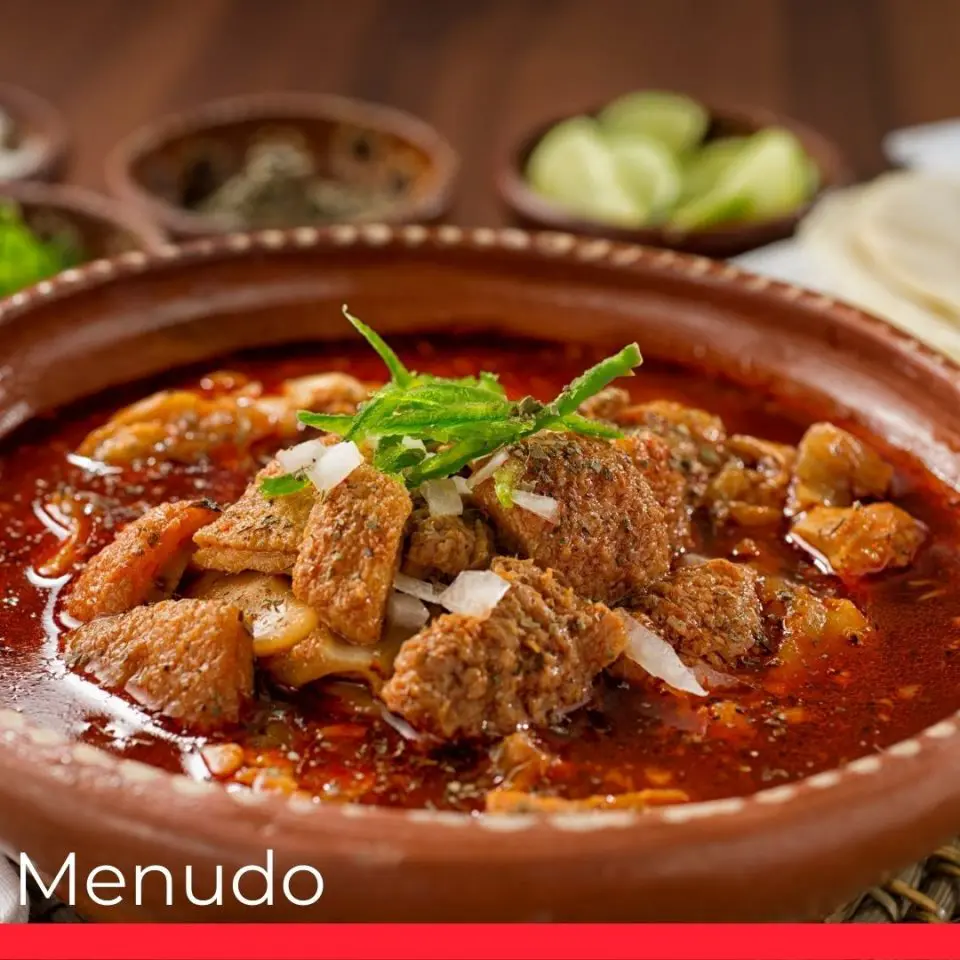 This arose in Spain before the conquest, according to history. The Art Book of Cozine says they used tripe. Menudo contains maize kernels (with or without grains) and beef tripe. Sometimes called Pancita.
1. Mexican Rice
This is a great way to start a Mexican feast with fluffy rice. Vegetables, tomatoes, and spices make this a versatile base. My tacos and huevos rancheros need a scoop.
2. Next-Level Vegan Enchiladas
We don't eat vegan on Meatless Mondays because I love cheese. I can't quit this. These vegan enchiladas surprised me. Sweet potato, roasted red pepper, sun-dried tomatoes, and black beans make up this stuffing. The tomato sauce adds boldness.
3. Easy Refried Beans
Refried beans are delicious. They give my Mexican foods flavour, texture, and nutrition. Pinto beans are an excellent substitute for buttery black beans. To boost their mild flavour, add taco spice or diced chiles.
4. Vegan Tacos
Vegan taco meat isn't a meat substitute. This dish is incredibly easy. This taco meat-looking combo of tofu, walnuts, and spices is delicious. Because it takes time, manufacture a lot. This will last for days.
5. Salsa with Fresh Tomatoes
Commercial salsas are excellent but often contain salt, sugar, and preservatives. Why? Mix all the ingredients in a food processor until chunky. Really? Jalapenos, mango, and red onion give mine a kick.
6. Chipotle Guacamole
Guacamole adds flavour without many calories. Avocado isn't low-calorie, but it beats mayo, right? This guacamole recipe is a must-try. This adds zest, creaminess, crunch, and tomato bits to tacos, enchiladas, and rice.
7. Mexican Migas
Migas with eggs resembles breakfast tacos without the soft shell. Migas are fried corn tortillas, eggs, and salsa. I've still had these for supper. Start by frying tortilla strips in a small amount of oil, making sure they don't burn. After pushing them aside, add the eggs. For serving, combine all ingredients and top with anything you choose.
8. Black Bean Burritos
Black bean burritos are affordable, filling, and spicy. Dried black beans and rice are cheap and go a long way. Use leftover Mexican rice. Coconut-milk-cooked rice is excellent.
9. Classic Pico de Gallo
Pico and salsa use the same ingredients, so why differentiate them? The second is tastier. Uncooked tomato, onion, jalapeo, cilantro, lime, and salt make up pico de gallo. Instead of fresh tomatoes, use stewed tomatoes for a "wetter" dip.
10. Black bean and vegetable quesadillas with cheese
Vegan "cheese" is wonderful but expensive if you purchase a lot. In many vegan meals, cashews are essential. "Cheese" may not be appropriate. Cashews, nutritional yeast, spices, salt, and salsa make a cheese-like spread.
11. Black Bean Tamale Pie
tamale pie is an excellent alternative for the genuine thing. Typical filling for a Mexican shepherd's pie includes meat and cornmeal. This dish's stuffing is black beans, onion, zucchini, bell pepper, garlic, and seasonings. I recommend making twice as much of the mix because it goes well with rice or nachos.
12. Corn Tortillas
Fresh corn tortillas beat store-bought wraps. After trying this dish, you'll love corn tortillas. Masa harina is available in most modern grocery stores or online. If you eat tacos often, buy a tortilla press for less than $20. A heavy-bottomed skillet will do.
13. Mexican Spiced Cauliflower Tacos
Cauliflower is the indisputable king of vegetarian and vegan cuisine. It's easy to season and versatile. Roasting gives any meal a wonderful sear. Spicy cauliflower, crunchy slaw, and cashew-based cilantro lime crème make these tacos delicious. Use lime juice for vinegar and chopped cilantro to make nut-free mayo.
14. Veggie Burrito Bowl with Mexican Rice
Burrito bowls are a terrific pre-made meal that reheats well. Please divide guacamole. Vegan taco meat or roasted cauliflower are good complements. The secret is dressing the vegetables well.
15. Portobello Fajitas
If you're vegetarian or wish to consume more vegetarian food, mushrooms will become your best friend. They're easy to add to any dish and provide substantial meatiness. My favourite portobello is meaty and large. When dried, smaller mushrooms retain more flavour.
16. Vegan Nachos
Perhaps you're wondering how to create vegan nachos without cheese. Vegan queso rules. No cashews, though. Eggplant, nutritional yeast, garlic, cumin, chilli powder, and cornstarch. Is it like a hard-to-stop cheese pull? Almost. Is it vegan-friendly?
17. Easy Mango Salsa
A citrus salsa is an ideal complement to my tacos' spice. Homemade mango salsa is amazing. Its bright colour and diverse flavour make it a popular ingredient. If you can't acquire fresh mangoes, use canned. Toss the syrup. I like it in margaritas.
18. Air Fryer Cauliflower Tacos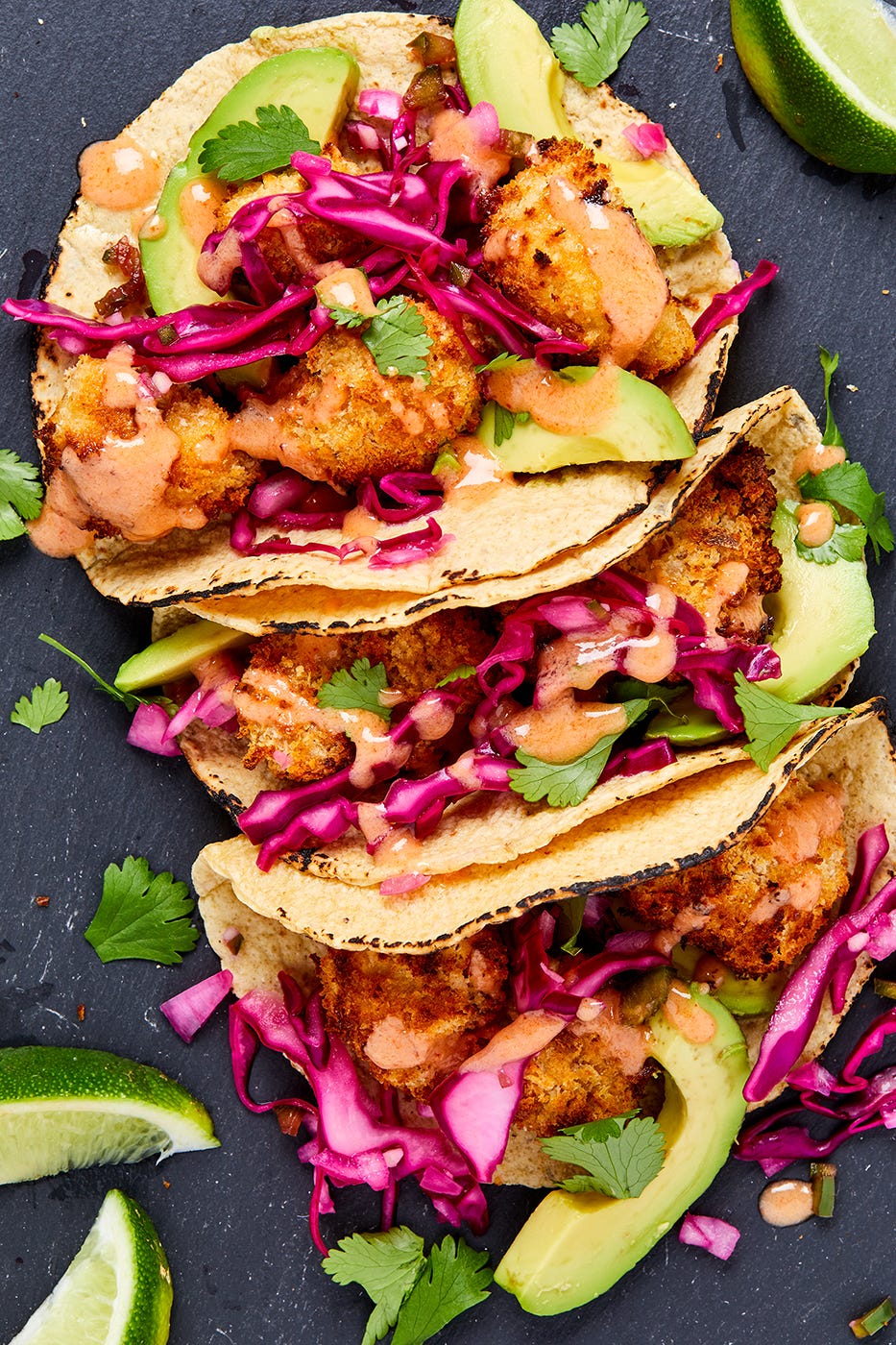 Utilize a device known as an air fryer to achieve a "fried" texture for cauliflower. Tacos de pescado are used to describe this meatless meal. Is this all there is to it? Zing comes from fresh pickled slaw and spicy mayonnaise.
19. Chipotle Vegan Queso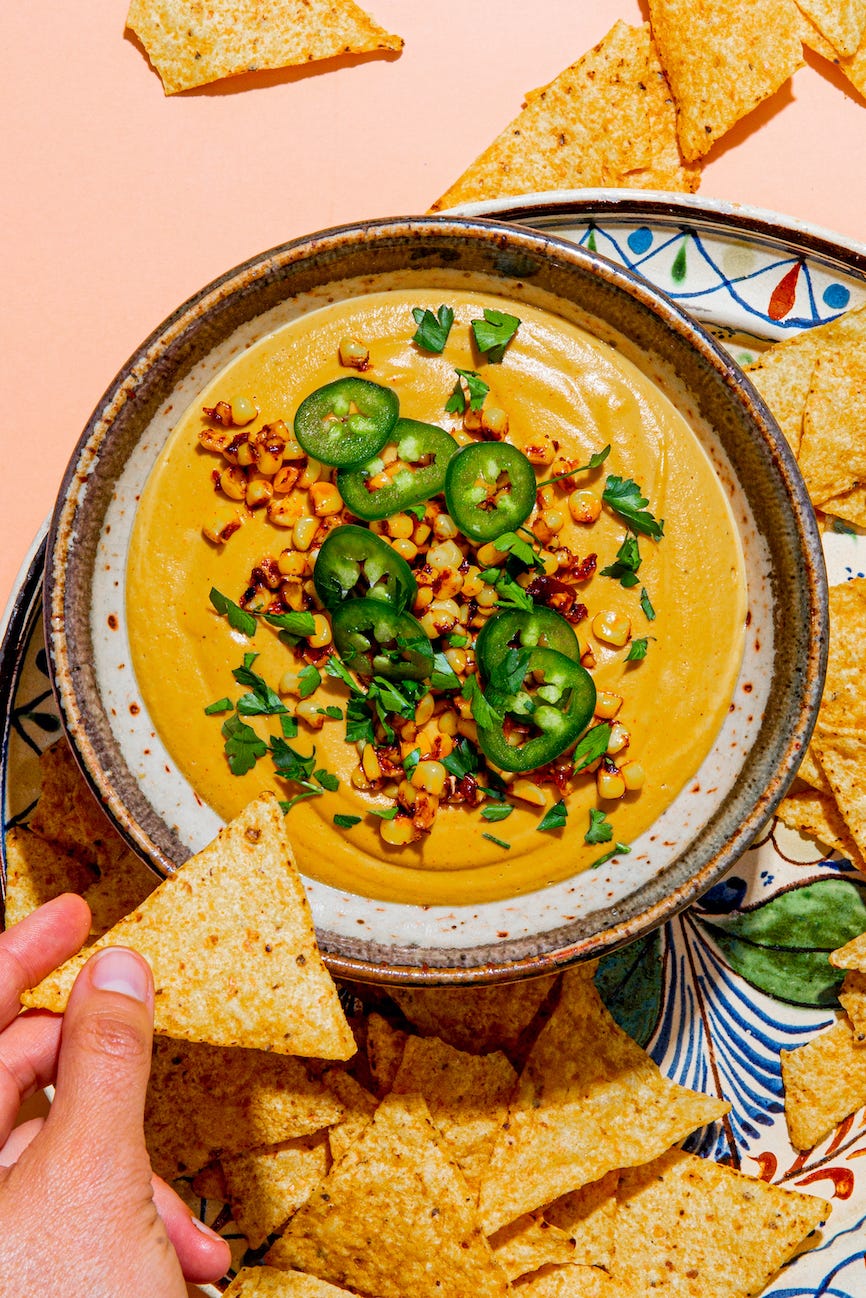 Not only does chipotle add colour, flavour, and spice, but it also has a smoky, earthy aroma. You can replace the chipotle with any other red salsa, from mild to wild.
20. Tamales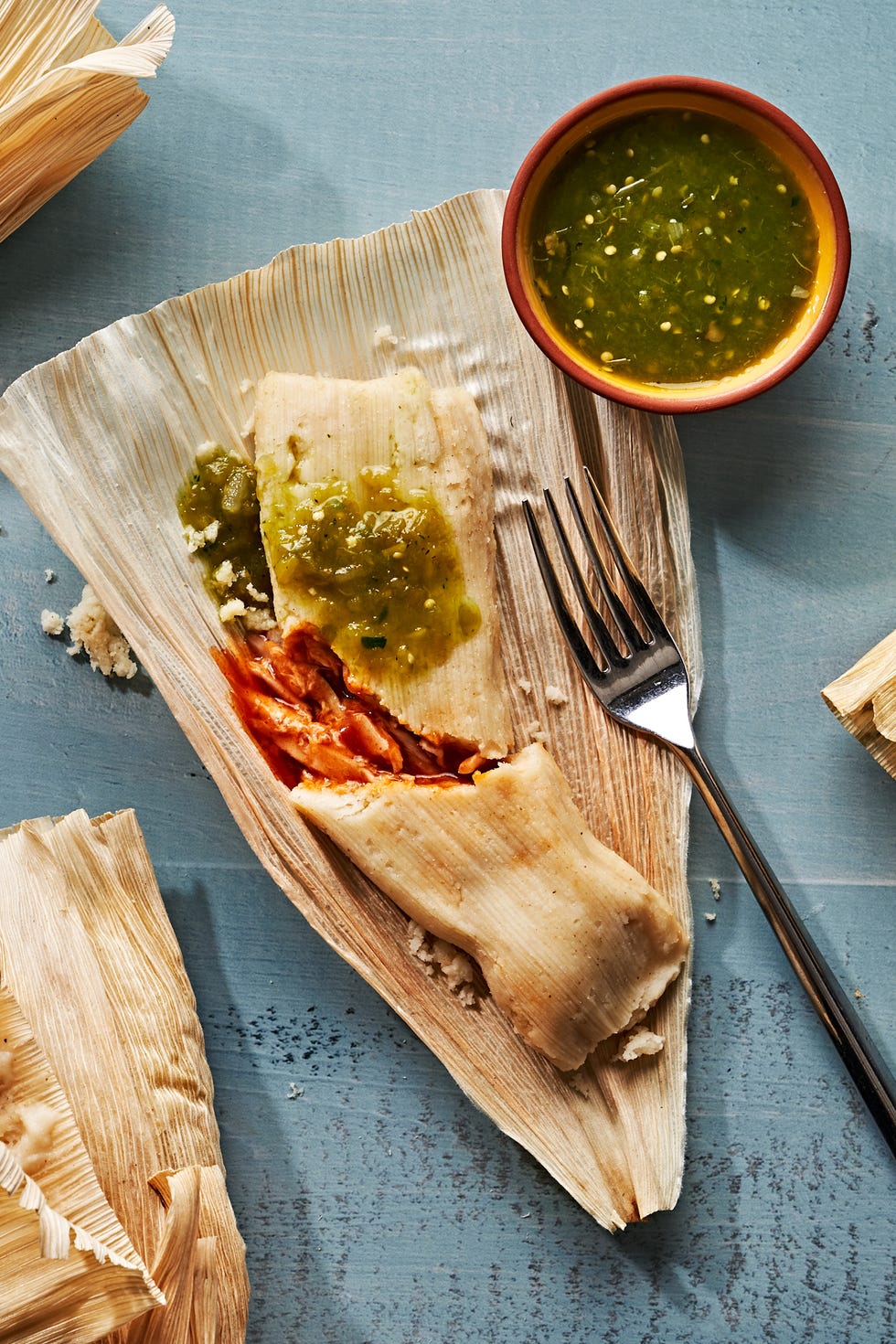 Tamales are a fun individual or group culinary project. Invite friends over for a party, your partner for an unconventional date, or the whole family for an activity. Tamales are fun to make and may hold several fillings.
21. Vegan Chipotle Lentil Tacos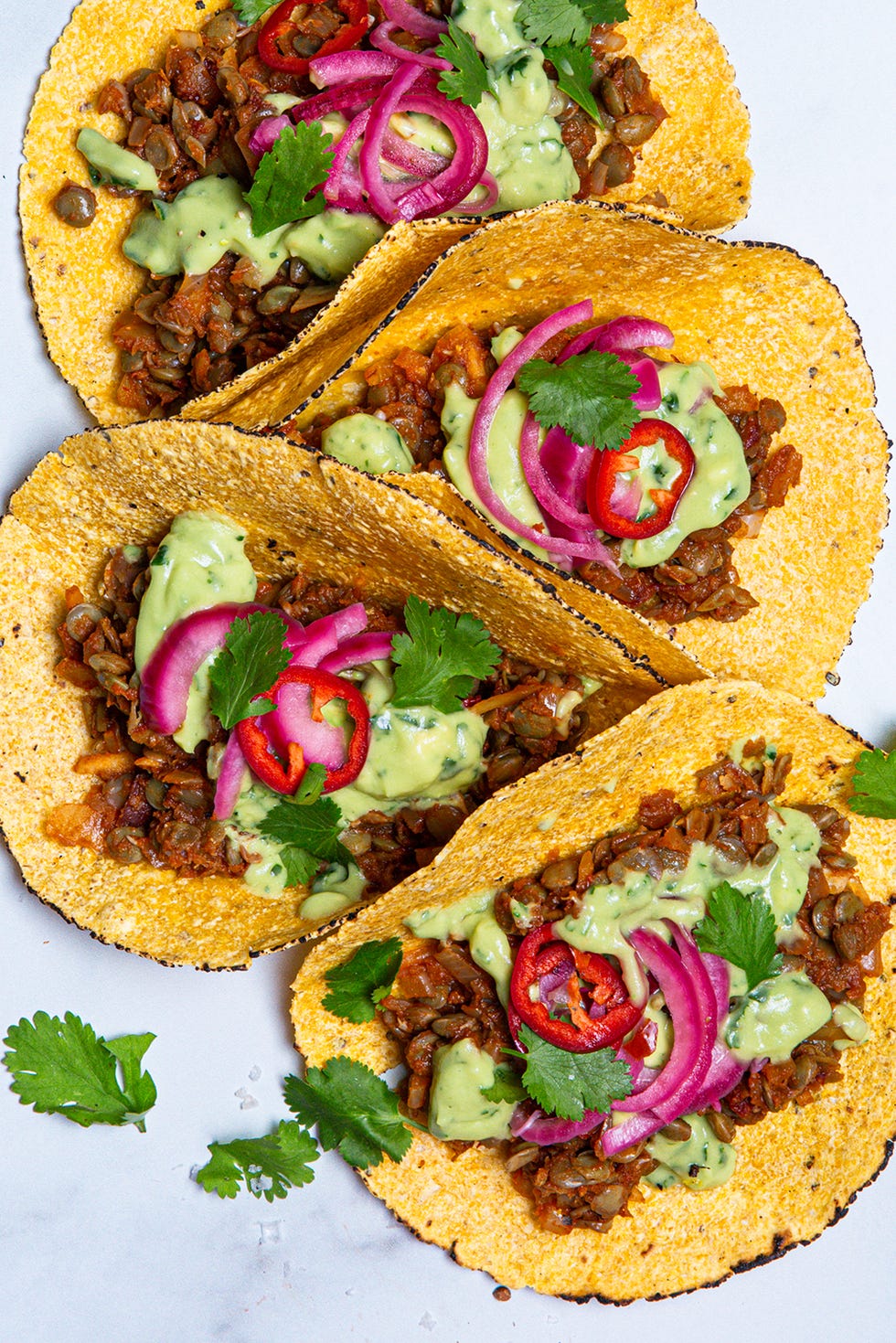 Like any delicious taco, these vegan versions are bursting with fresh flavours and a wide range of textures. Taco Tuesday isn't complete without a side of icy margaritas and fresh guacamole.
22. Vegan Taco Salad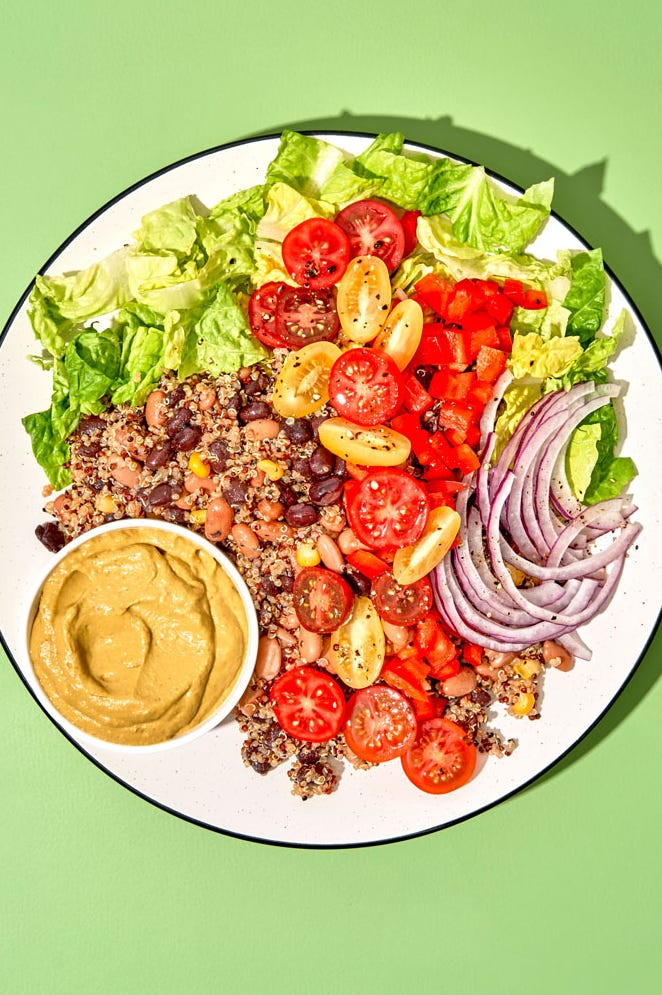 Vegetarian substitutions were made to our beloved taco salad. It's a grain and bean salad that's hearty enough for dinner. In this salad, the spicy dressing is the star. Sprinkle on your preferred toppings, like as cherry tomatoes and tortilla chips.
23. Veggie Paella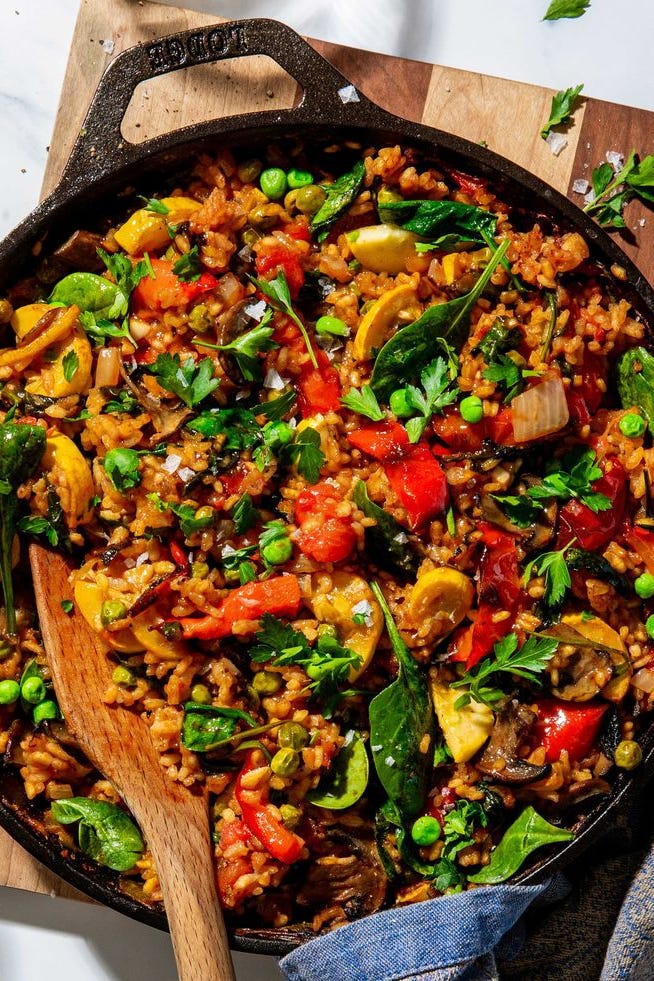 This weeknight paella takes less than an hour to make and most of the cooking is done in the oven. Returning the pan to the fire after baking creates a socarrat (meaning "burnt" in Catalan) rice crust.
24. Classic Pico De Gallo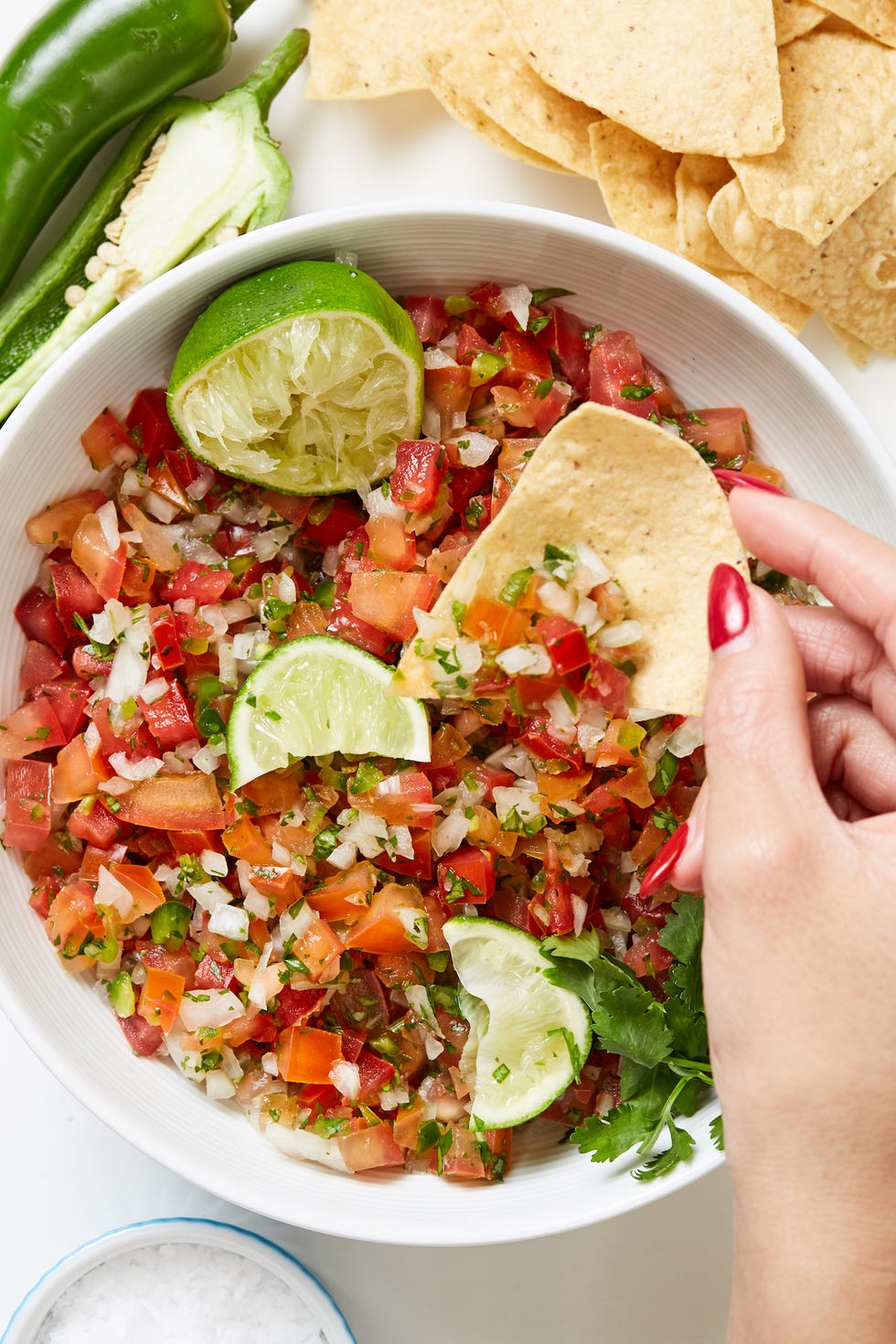 Happy hour snack? A last-minute buffet dish? Vegan nachos without salsa? Pico de gallo helps. Taste the hot peppers you wish to use in salsa and adjust the amount.
1. Mexican Lentil Soup
This vegetarian soup is full of vegetables, spices, and other pleasures. Very filling, and the tortilla strips provide a nice crunch. Avocados provide healthy fats, while lime slices add tang. Chilli powder, fire-roasted tomatoes, jalapenos, and pepper provide spiciness. This soup has everything.
2. Chicken Enchilada Soup
Chicken enchilada soup's popularity has soared in recent years, but canned versions can't compare to the real thing. Rich, creamy cheese flavour. Crunchy corn, black beans, and peppers accompany tender, delicious chicken.
3. Mexican Meatball Soup
Albondigas soup blends ground meat and vegetables in a broth. The recipe calls for a long list of ingredients, but most are pantry basics like herbs, spices, and veggies. These meatballs require a recipe. Don't limit them to this soup recipe; they're excellent and flexible.
4. Mexican Vegetable Soup
A outsider would think Mexican vegetable soup tastes like any other. Garden-fresh carrots, onions, zucchini, and green beans swim in vegetable broth. Lime juice, cilantro, Mexican oregano, and sliced tomatoes with green chilies give dish a Mexican flavour.
5. Black Bean Soup
Simple black bean soup takes 2 hours to cook. Everything else besides beans and onions is in a spice or herb rack. This soup is deep, earthy, and spicy despite its simplicity, thanks to the lime juice.
6. Mexican Pozole
Pozole has pig, beef, and more pork. This meal features pork shoulder, broth, hominy, chiles, and jalapenos. Adjust the broth's pork content to your taste. Some add so little pozole looks more like pig than a stew.
7. Chicken Fajita Soup
Substitute chicken for the sausage in pasta e fagioli and use rice instead of pasta to make chicken fajita soup. The only other change is the higher temperature. Cumin, oregano, paprika, chilli powder, and ancho chilli powder season chicken fajita soup. Spicy and Mexican-inspired, it boosts the dish's flavour.
8. Chicken Tortilla Soup
This food is a staple in my home during the fall and winter seasons because it contains succulent shredded chicken, two different kinds of cheese, salsa, and a wide variety of other robust flavours.
9. Taco Soup
Ground beef (or turkey), ranch dressing, taco seasoning blends, tomatoes, corn, chiles, beans, and more can go into a pot of taco soup. Crumble tortilla or corn chips and top with cheese, sour cream, and jalapeño. Unmatched.
10. Mexican Beef and Rice Soup
It tastes like a burrito, minus the tortilla, but with a somewhat stronger tomato flavour. For maximum flavour, sprinkle on some sour cream and a shredded Mexican cheese blend before serving.
11. Mexican Tomato Soup
Fans of creamy tomato soup will like this. You'll like it more if you learn it can be made in 20 minutes. Garlic, cilantro, and spicy peppers give this tomato soup a Mexican flair.
12. Burrito Bowl Soup
It's hard to believe how cheesy this soup is. The level of cheeseiness here is off the charts. This soup is more like a dip than a soup because of its warm, sticky, and thick consistency. It's delicious when served with lots of smashed up tortilla chips, is gluten-free, and has a strong garlic flavour.
13. Mexican Potato Soup
Mexican potato soup differs from American. Tomato broth replaces potato stock. Preparation is easy. Onion, salt, chicken bouillon, oil, and water are also needed. This 50-minute dish can be an appetiser or light supper.
14. Chicken Avocado Soup
This soup's delicate chicken is garlicky and spicy. Green onions, tomatoes, and avocados add flavour and texture. The creamy texture of the avocados in this savoury soup will fill you up despite the thin liquid.
15. Carnitas Stew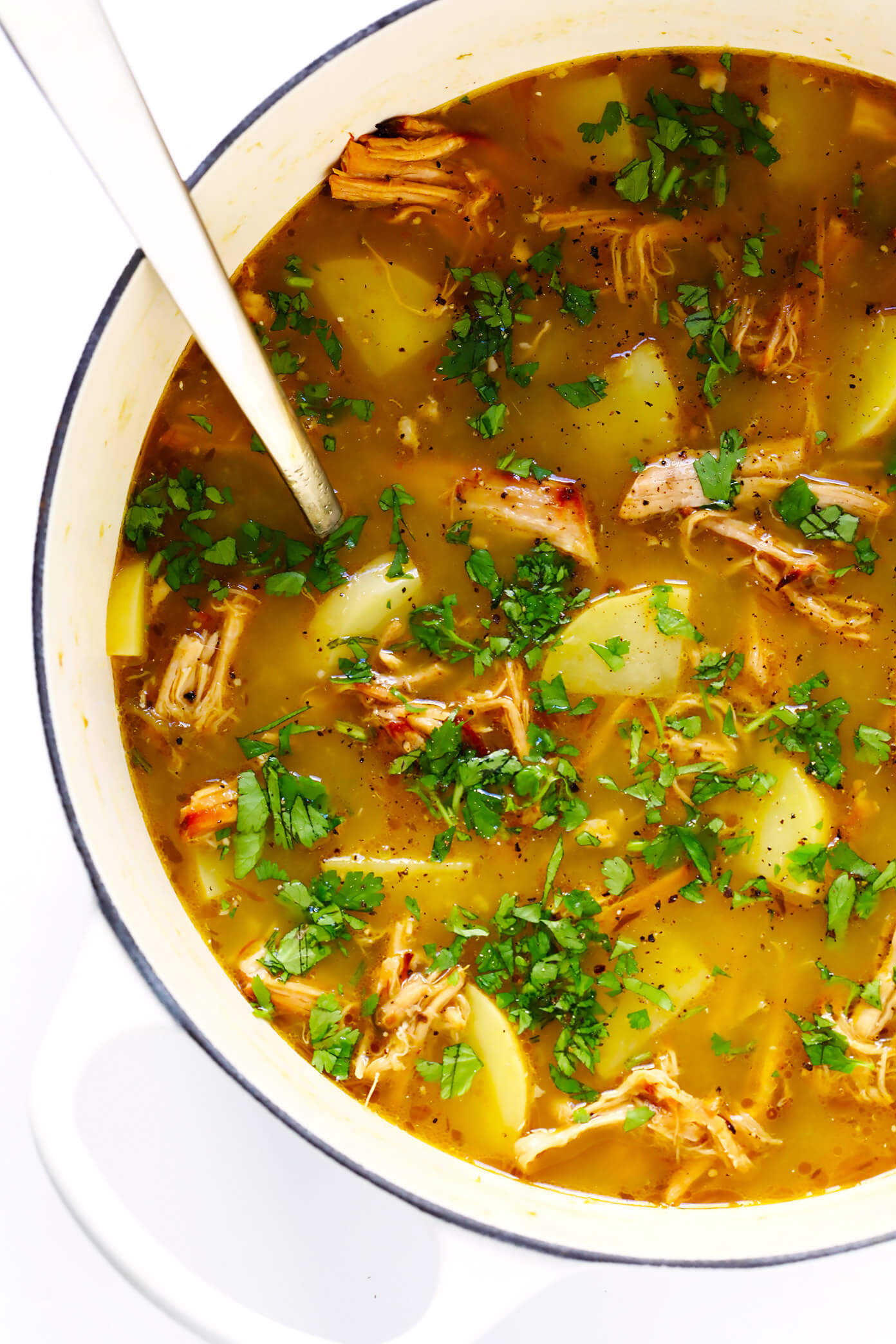 Carnitas stew is the epitome of homey fare. It combines elements of both soup and chilli and is loaded with flavorful, chunky ingredients. There's something about this stew that everyone will enjoy, whether it's the pork carnitas, the beans and corn, the seasonings, or the abundance of peppers.
1. Churros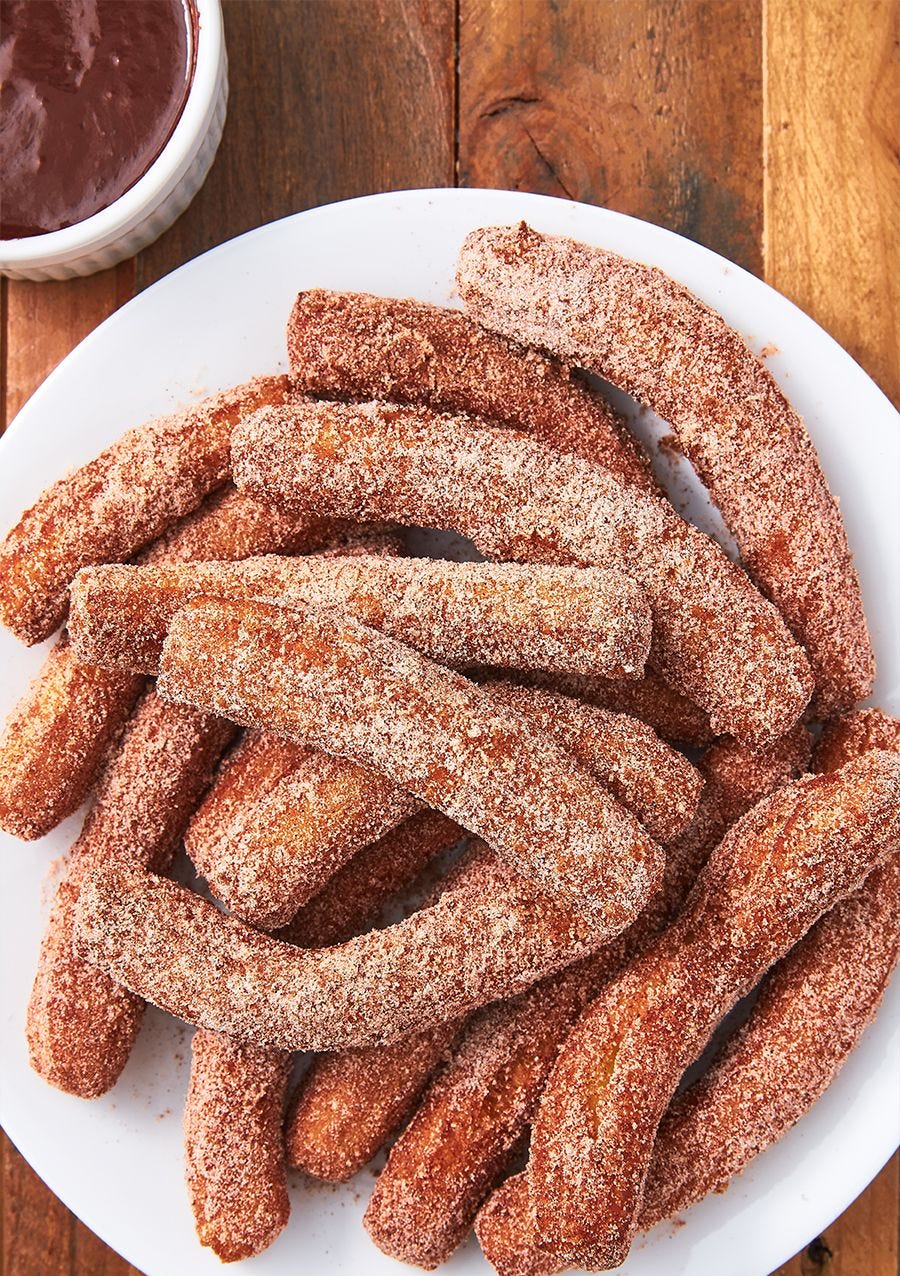 Churros are the pinnacle of deliciousness because they are sweet, crunchy on the exterior, and fluffy and moist on the inside. Donuts made with deep-fried dough that's sprinkled with cinnamon sugar and then doused in chocolate or caramel? These sugary sticks are available everywhere, not just in Mexican eateries.
2. Snowball Cookies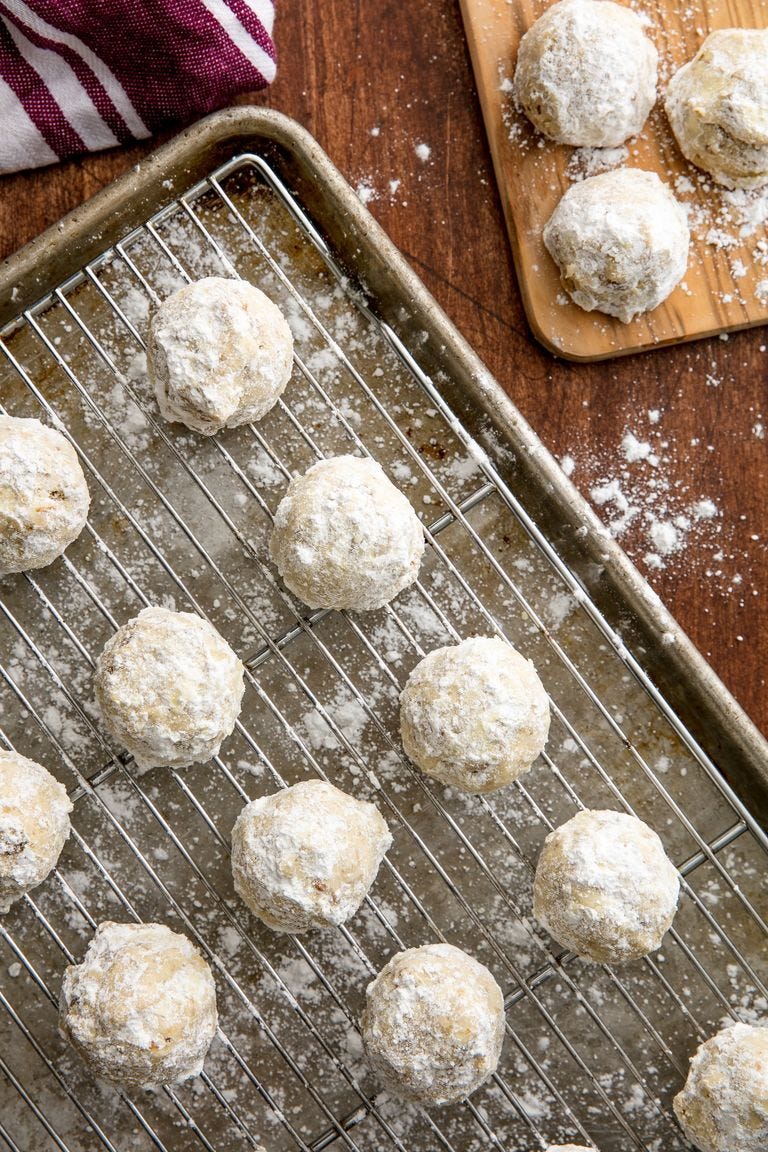 First, don't eat these snowballs, sometimes called Mexican Wedding Cookies, while dressed up. Powdery confectioner's sugar lends these snowballs their "snowy" and delicious texture.
3. Caramel Flan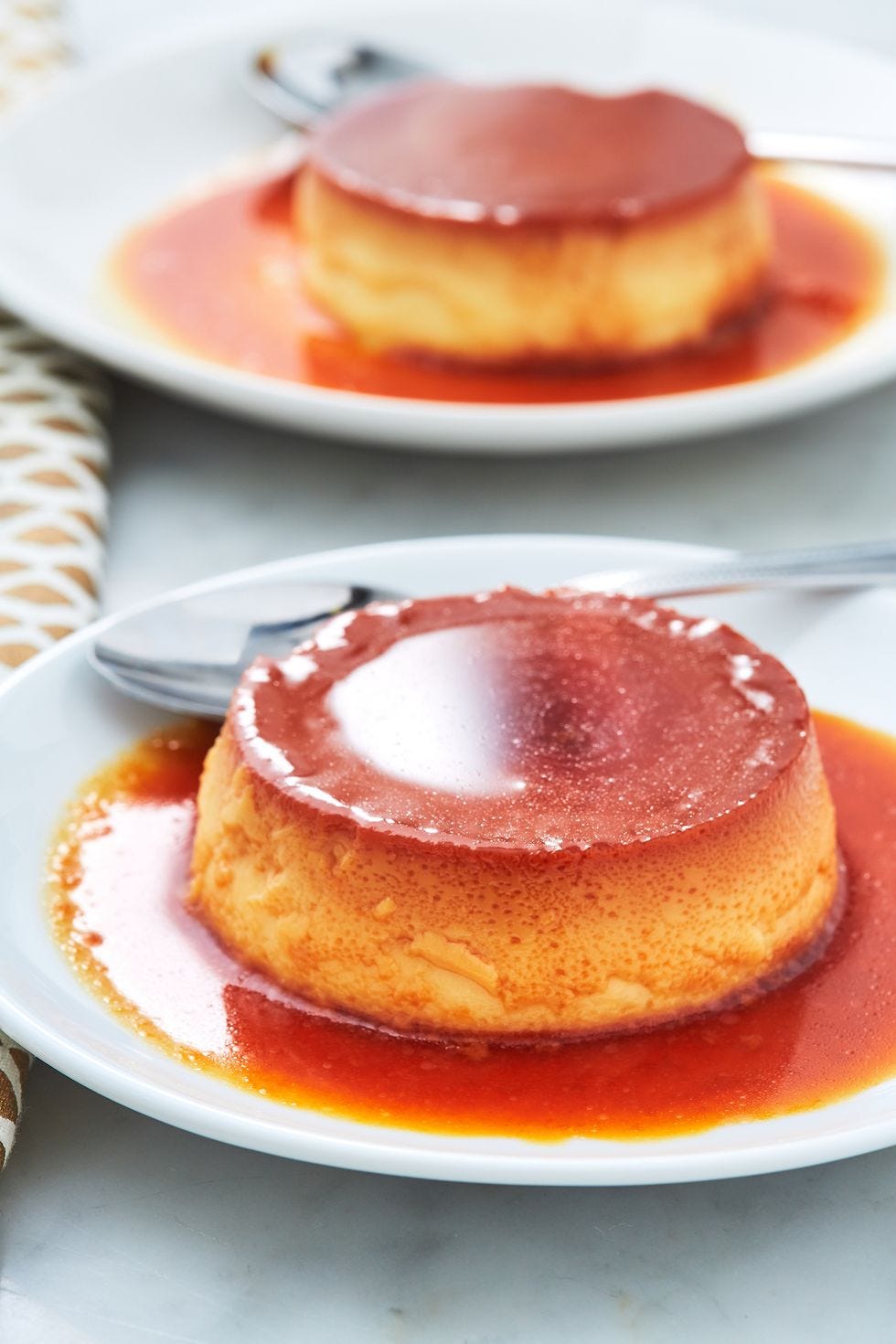 Custard with a sweet caramel flavour, flan is a delicious treat. For those who have never made flan before, this caramel flan recipe is a good place to start. There are only 5 basic materials needed. Flan can be prepared with sugar, eggs, sweetened condensed milk, evaporated milk, and vanilla extract.
4. Mangonada Sorbet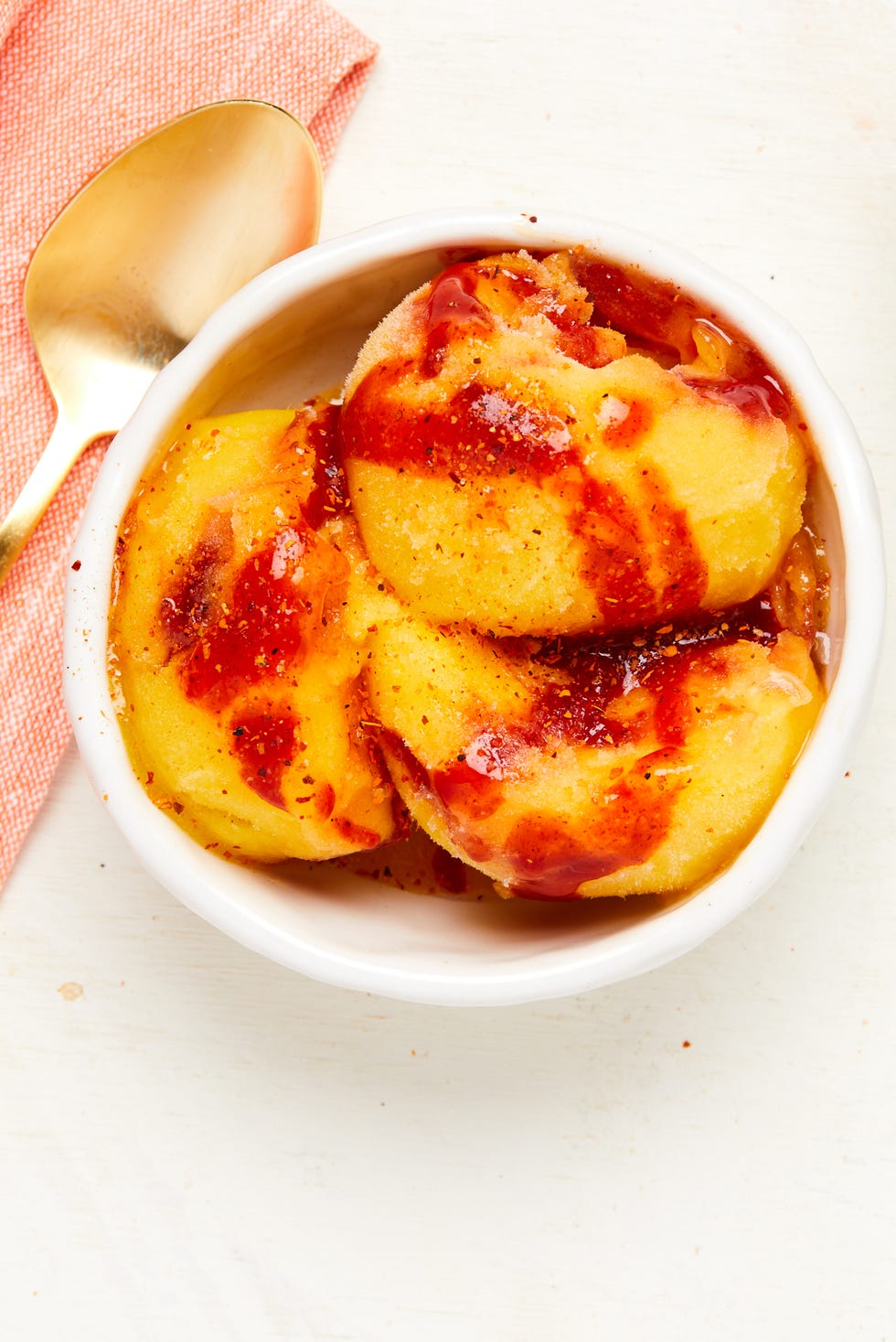 Chamoy is a sauce made of pickled fruits and chiles that works well with anything. If you can't get Tajin, we've included a strawberry swirl recipe. If you can't get Tajin, replace hot sauce or chilli powder.
5. Sweet Mexican Corn Cake
Moist and sweet, Mexican sweet corn cake is a delicious treat. Why is Mexican corn cake so exceptional? It's made with real corn as well as corn flour and meal. That's how corny this cake is, and it's telling. Cajeta, caramel, ice cream, or powdered sugar go wonderfully with this well-liked delicacy.
6. Sopapillas
Sopapillas are a sweet, fluffy, fried dough delicacy. Like Indian fried bread, soft doughs. Filler is sometimes taco meat. Dessert is whipped berry pie. Powdered sugar and honey are used. These few parts make a whole. Join my stomach!