Are you looking for some best Italian restaurants near you or in your city? You can explore and find best Italian restaurants by entering your zip code or your city name below.
If you don't have any idea what you should eat in Italian restaurants then we've also listed top 10 best Italian food below. You can try the below listed Italian dishes in near your Italian restaurants.
Find Best Italian Restaurants Near You Through Zip Code or City Name
[ASL_STORELOCATOR category="55″]
Also See: 10 Best and Famous Thai Food You Should Eat in Thai Restaurants
10 Best Italian Food You Should Try in Italian Restaurants
1. Bruschetta
Bruschetta is one of the most popular appetizers in Italian restaurants across America. Its greatness lies in its simplicity, as it is practically a slice of toast. The most important thing when making Bruschetta is the quality of the bread. Success depends on making it using homemade excellent quality bread.
In American-Italian restaurants, the bread is cut into medium thick slices, toasted with garlic and good quality, usually extra virgin olive oil. The toppings are usually placed raw on the toasted bread slices as a crown and toppings can only be limited by the imagination, tomato or mushroom sauce, fish or ham slices, pesto, olives, fresh spices like basil or sage leaves, succulent italian cheese, a little mozzarella or parmesan.
2. Insalata Caprese
Caprese salad as its name suggests is from the island of Capri. It's absolutely reminiscent of sunny Italy in its colors and flavors. It consists of a sweet triad of basil tomato and mozzarella often sprinkled with a few drops of balsamic vinegar.
The secret of this dish is that tomatoes need to be really sweet, ripe and juicy, there can be no compromise in this. The world-famous italian cheese, the juicy buffalo mozzarella cut into thick slices, perfectly complements the tomato with its discreet taste and the whole dish is crowned with chunky basil leaves.
This is how food will be truly Italian in both taste and color. Insalata caprese is not served as a side dish but on its own as an appetizer. It absolutely stays in place and perfectly prepares the stomach for the arrival of the next dishes.
3. Minestrone
Minestrone is the world-famous vegetable soup in Italian restaurants. It contains no meat at all, but even the biggest carnivores can easily forget about it because it has a really complex flavor. Countless versions are made of it, almost every family has its own variety for the perfect minestrone soup.
What is common to them?
Usually legumes and root vegetables are added in large numbers, supplemented with a little tomato puree and from this point everyone makes their own version of minestrone. In some American-Italian restaurants quite often minestrone soup contains some kind of pasta while in other restaurants of the country, this is unimaginable.
The same is true of sliced tomatoes and pesto, they are common in minestrone in some Italian Restaurants and completely omitted in others. Minestrone soup has been cooked over a low heat for a long time so that the taste of the vegetables completely melts together and the result will be more than perfect.
4. Bistecca alla Fiorentina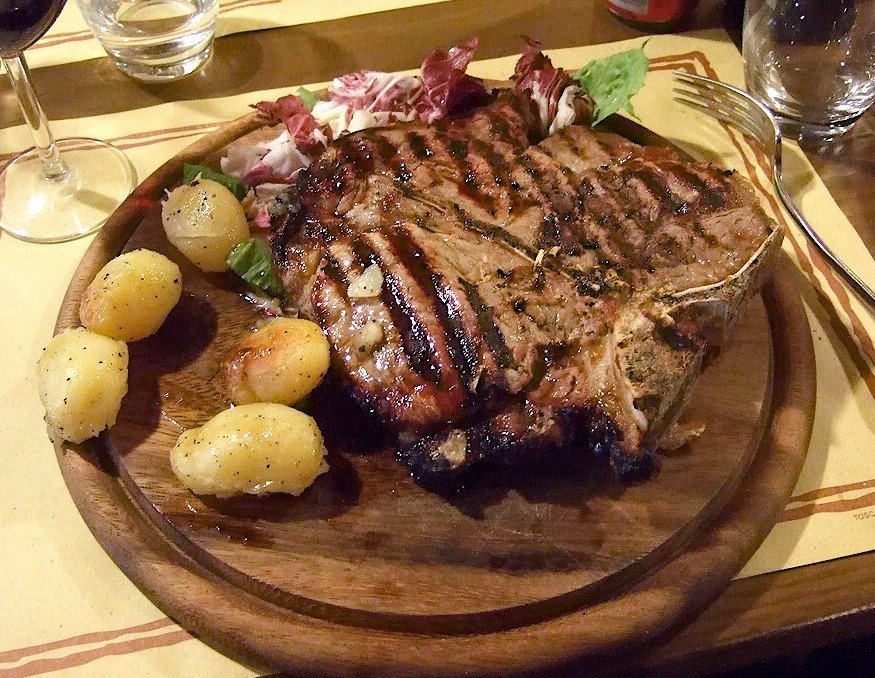 When we think of Italian restaurants, it's not the consumption of steak that comes to our mind for the first time, although it would be a sin to miss Bistecca alla Fiorentina also known as florentine steak. This large veal T-boned slice usually weighs at least 450 grams per slice, but it's not uncommon to serve a slice weighing one kilogram.
In the last minutes of the cooking process, the meat slices are cooked standing on the bone. It is important that the slices should be thick enough so the meat will stand on its feet. It can be placed on your table as a rare or medium steak.
The perfect florentine steak is really crispy on the outside, but soft, juicy, and bright red on the inside. In Italian restaurants, if you order meat dishes, the focus is really on the meat. They don't eat hearty garnishes, usually just something light like a small amount of salad.
Bistecca alla Fiorentina is usually served with cannellini beans flavored with a little olive oil, simple but great and of course a glass of wine is a must.
5. Ossobuco Milanese
Ossobuco first appeared under this name in the 19th century around Milan. It used to be the food of the poor, a large piece of veal shank cooked together with root vegetables in a thick, creamy sauce. It was quick and very easy to prepare, cheap and very hearty.
In the middle of the pieces of meat is the bone that contains the marrow which is a real delicacy. The meaning of Ossobuco is bone with a hole, which suggests that during preparation, The biggest part of the marrow usually flows out of the bone and mixes with the sauce, while the bone with a hole remains in the middle of the veal shank.
The traditional Ossobuco is made by adding white wine and chicken broth, the modern version contains tomatoes, which makes the sauce denser. It is usually served with heavenly Italian risotto or polenta, which is a thickly cooked corn porridge and a very pleasant garnish next to such a hearty meat.
In addition, they are often served with gremolata, which is a mixture of chopped parsley, garlic, and lemon juice, with a very intense and refreshing taste.
6. Regional Italian Pizza

Pizza is the national dish of Italy. It is also a very popular dish in America and you'll easily get in all American – Italian restaurants. There's no one who has never heard of it, its history dates back to antiquity. At a time the so-called flat bread was baked on a hot stone, smeared with honey and sprinkled with flavorful fresh spices, usually rosemary and basil.
As tomatoes reached Italy after the discovery of America, the history of the modern pizza began. The world's first pizzeria opened in Naples and still exists. The basis of the pizza is the yeast made pizza dough, which is made really paper thin in italian restaurants. Traditionally, pizza dough is covered with tomato puree, so you don't need anything else than mozzarella and basil.
This variety is called pizza margarita, the simplest and most famous pizza in Italy and American – Italian restaurants and the pizza toppings can really only be limited by imagination. Instead of the tomato base, it can be a sour cream, cheese or honey mustard base.
This is followed by various meats, hams, vegetables, olives or even boiled egg slices. And what crowns the pizza is of course, the fresh basil in the excellent Italian cheese, mozzarella, and parmesan.
7. Italian Pasta

We tend to think that the homeland of the different pasta is Italy even though this is not the case. Archaeological excavations prove that people in China and several other countries of the world consume pasta earlier than people in Italy.
However, what the Italian restaurants can do with pasta is a completely different question. And in addition to pizza, pasta is what makes Italian cuisine world famous. Centuries ago, dry pasta made from wheat was especially popular among merchants because it was long lasting and could be taken on long sea voyages.
Italian pasta dishes set out on a world conquering journey when people began consuming them with sauces made from tomatoes. Classic spaghetti bolognese is familiar to everyone, al dente spaghetti pasta with a rich ragù alla bolognese sprinkled with grated hard cheese, usually parmesan. Equally popular is lasagna, which is created by layering flat pasta, ragu alla bolognese, and creamy bechamel sauce and baked in the oven.
In Italian restaurants, they also make excellent quality filled pasta, think of tortellini and ravioli. These pastas can be filled with anything. The most popular are variations with meat, fish, cheese, mushrooms, or spinach ricotta filling. They are so delicious on their own, they only need a small amount of creamy sauce, some cheese on top and they are ready to be eaten.
Gnocchi di patate is just as popular and delicious as the former ones. The flour is mixed with soft-boiled crushed potatoes and shaped into a typical gnocchi shape, then cooked in salty hot water and usually served with only a little hot butter and sage leaves.
These pasta dishes are so popular in the USA and around the world that the 25th day of October has been designated as World Pasta Day.
8. Arancini
These stuffed rice balls are very popular street foods in Italian restaurants. Arancini was originally consumed on the island of Sicily, but can already be found in other parts of the country. Many local versions exist, all of which have in common that they put some stuffing into the cooked rice, shape it into bowls, then cover it with breadcrumbs and fry them in hot oil.
It is made with a wide variety of fillings including ragu, fish, cheese, ham, vegetables such as eggplant or mushrooms. Each is very juicy and really hearty. The Italians love risotto very much and if there is any leftover, they usually make perfect Arancini the next day.
The meaning of Arancini is small orange, which refers to its shape and color. On the island of Sicily however, they are more of a cone shape, thus resembling the symbol of the island, Mount Etna.
9. Cannolo Siciliano
Cannolo is also from Sicily, originally a festive cake and now one of the symbols of Sicily. Its history is more than a thousand years old, it was first made around the 10th century. Cannolo, plural cannoli is a sweet, crispy, oil-fried dough tube with flavored ricotta filling inside.
The dough is traditionally mixed with marsala wine, a Sicilian sweet dessert wine that makes the Cannolo extraordinary. Ricotta filling can include cinnamon or orange peel and a pinch of sugar. Cannolo is usually decorated with candied fruit, oranges, or cherries, sprinkled with the famous and excellent quality Sicilian pistachios.
Nowadays, chocolate versions are also very popular. In addition to the obligatory ingredients, cocoa powder is added to their dough. The two ends of the fried little tubes are dipped in melted chocolate and then in chopped pistachios.
Often a small amount of chocolate chips are added to the ricotta cream just to make sure that it's really full of chocolate.
10. Gelato

Gelato is not just a simple ice cream that you can taste on any corner in the world. Gelato is a real Italian speciality compared to the usual ice cream. Gelato contains less cream instead it is enriched with milk which has a much lower fat content. Instead of 20, the fat content of Gelato is about 6% to 8%.
Unlike ice cream, Gelato is stirred slowly so it contains less air and is much creamier than ice cream served at a slightly higher temperature than ice cream. This creamy silky cold sweetness instantly melts in your mouth.
The number of variations is of course endless. It can be made from any kind of fruit with large pieces of fruit flesh, but Gelato made from spices or seeds is also common. So if you're in Italian restaurants, it's not surprising to find yourself facing basil flavoured, rosemary flavoured, or pineapple Gelato.